The December edition of the "Helping Children Learn" monthly newsletter is being sent home with our students today on green paper. We would like to draw attention to an article that emphasizes that your child has the ability to learn and get smarter! There are other great articles that feature support tips for working at home with your child on math vocabulary, writing, time management, and much more! As always, we feel this newsletter is a great support for you at home! You can also access this newsletter by clicking on the links below: English: 
https://5il.co/1k2nf
  Spanish: 
https://5il.co/1k2ng

It's the birthday of American author Samuel Clemens (Mark Twain). Read one of his stories with your child.
Have your child write directions for making his favorite sandwich. Then follow them together.
At bedtime tonight, tell your child a story about yourself when you were his or her age.
Talk with your child about a choice one of you needs to make. Discuss all the options and possible consequences.

Friday, November 18, 2022 is the last day of school until Monday, November 28, 2022. All schools and the district office will be closed the week of November 21-25, 2022 in observance of Thanksgiving Holidays. Happy Thanksgiving from the faculty and staff of Ware County Schools!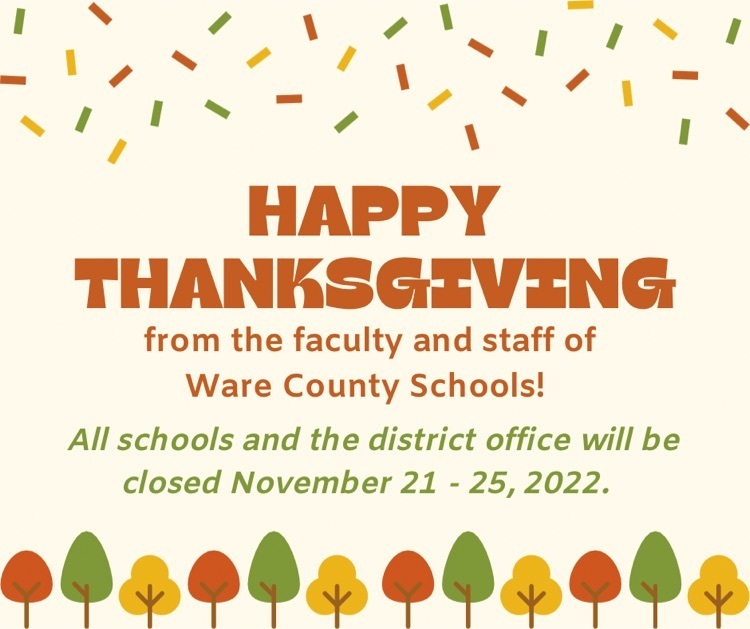 Hum a song and see if your child can guess its name.
Think of a meaningful quotation you love. Post it where your child will see it.
Draw a picture of a word. See if your child can guess the word. Then let your child pick a word to draw.
See how many ways your child can write a number. For example, 4 can be written 1+3, 2+2 or 6-2.
Encourage your child to write a thank-you note to a favorite teacher or staff member this month.
Due to inclement weather, Gator All-Star Academy and all out-of-district athletic competitions have been canceled for Thursday, November 10, 2022.
Ask your child to pretend he's the town mayor for a day. Have him list three ideas to make your community stronger.
Reminder: All official communication regarding school closures or changes to our operating schedule will be communicated to families through the district's Facebook page and website, as well as Thrillshare, our callout system. All Ware County schools will be in session through the remainder of the week (Jovemver 10-11, 2022) unless otherwise noted through those three communication channels. Thank you!
When you buy something, ask your child to figure how much tax you will be charged.
Have your child replace adjectives on a printed ad with their opposites.
Pop Tabs for Pizza!! Please join us as our school participates in the can tab drive hosted by "Waycross Can", an organization that donates can tabs to Ronald McDonald House of Jacksonville , FL. Money collected from recycling can tabs provides lodging & food for families of children receiving treatment in the Jacksonville area. Many families from our community are served by the Ronald McDonald House Charities. See the flyer for more details!
Hold a family meeting. Make some goals as a family.
Do a crossword puzzle together. It's a great way to learn new words.