Don't forget - The deadline to sign students in grades K-12 up for Digital Learning for 2021-2022 is Wednesday, June 9 at 11:59pm. The application is available at bit.ly/WCSDigLearnAppSY22. There is no digital learning option for Pre-K students. Contact us at
feedback@ware.k12.ga.us
with any questions.
Integrity Health will be offering Sports Physicals June 1 - 4, 2021 for $15. Please call the office, located at 808 Beacon St., at (912) 490-4325 to make an appointment. 
Applications are now being received to participate in Digital Learning for the 2021-2022 school year. Parents/guardians wishing to enroll their child in digital learning must complete the application, located at
http://bit.ly/WCSDigLearnAppSY22
, in order to enroll. Applications will be accepted through 11:59 pm on Wednesday, June 9, 2021. Please note: There is NO digital learning option for Pre-K students.
Ware County Schools will hold an ESSER 3 Stakeholder Input meeting on Thursday, May 27, 2021 at 5:30pm at the Transportation Department, located behind Wacona Elementary School. The public is invited to attend.
Thursday and Friday, May 20th and 21st, are Attendance Make-up Days for all students at Ware County Middle and Waycross Middle schools. You will be personally contacted if your child needs to attend these days. Thank you!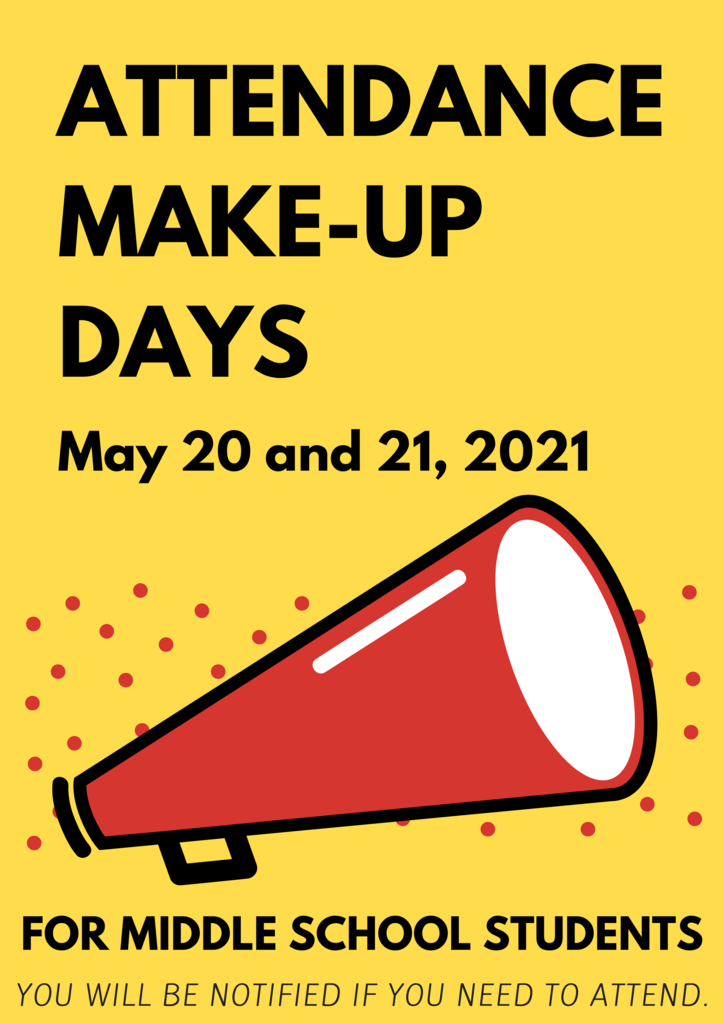 Elite Primary Care is offering Sports Physicals Thursday, May 20. An appointment is required. The Ware County School System does not promote one provider over another; we are simply making the public aware of this opportunity.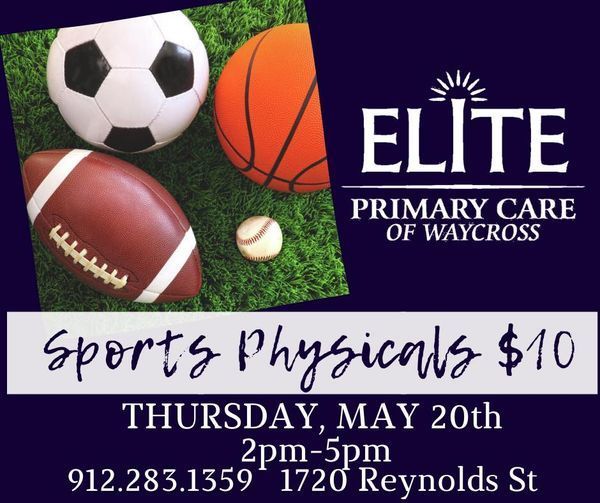 The Lady Gators softball team is hosting a camp May 26 and 27. Check out the flyer for more details!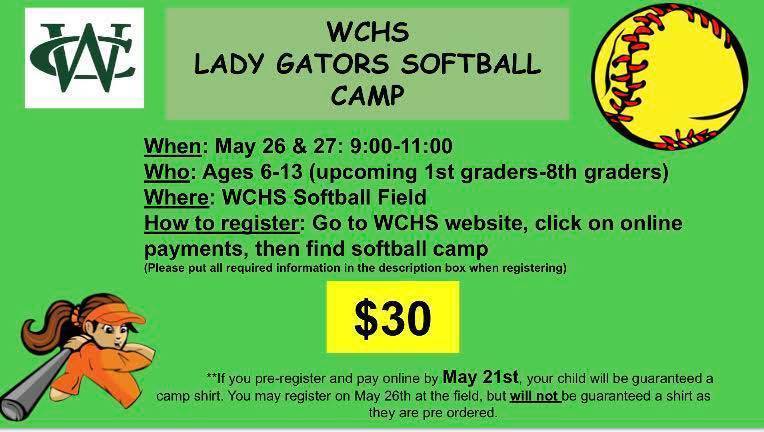 WCS Families, we are excited to announce new school hours for the 2021-2022 school year. We hope that sharing this information early will help you plan for the next school year. DAFFODIL Pre-K 7:30am - 2:15pm Elementary Schools 7:30am - 2:30pm Middle Schools 7:50am - 3:30pm High School 8:15am - 3:15pm

Check out the Volleyball t-shirt fundraiser!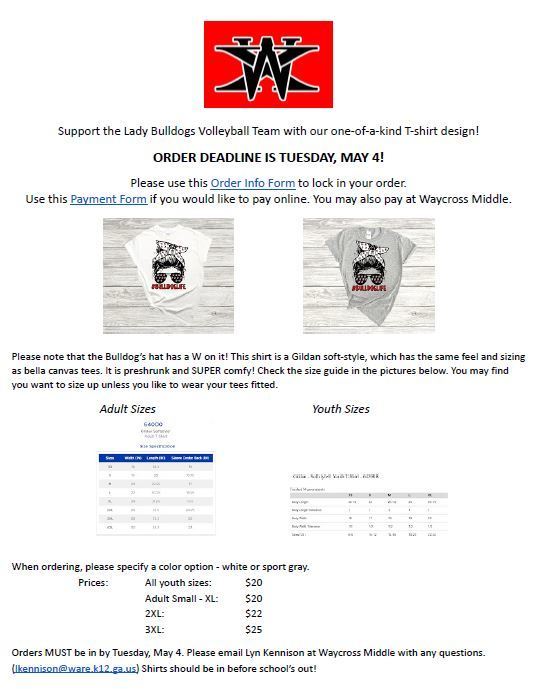 Attention Digital Students!

NOTICE: CHEERLEADING TRYOUTS DATE CHANGE Due to unforeseen circumstances we are backing the date of tryouts back one day!! Please help spread the word! ‼️Tryouts will now start on Tuesday, April 27, 2021. ‼️ We are excited about Cheerleading Tryouts next week! 📣🐾 *Students must have a current physical on file to tryout.

This is David Hitt, principal at Waycross Middle with another very important announcement. Based on more confirmed students with COVID this afternoon, we have made the decision to close Waycross Middle School for the remainder of this week. We will re-evaluate our situation on Friday and determine whether it will be safe to open School on Monday or if we need to extend the closure into the following week. We will make a call out by noon on Friday to inform you of our decision for the following week. We will be contacting parents of students that have been in direct contact with those students who have tested positive later this afternoon. If you do not receive a call, know that your student has not been in direct contact and they are not quarantined. Again, Waycross Middle will be closed to all students for the remainder of this week and possibly into next week. We will make a decision this Friday concerning next week and announce our decision by noon on Friday. Teachers will be posting instruction and work in Google Classroom starting at 11:30 tomorrow and then at 9:00 daily until we re-open. If you do not have WiFi in your home, we will have paper work packets available in the front office for your students. Again, thank you for your continued support and please stay safe.

This is David Hitt, principal at Waycross Middle with a very important announcement. Starting tomorrow morning, all 8th grades students that are not in a self contained setting are to remain home. Again, all 8th grade students not in the self contained setting are not to report to school tomorrow through next Friday, January 29th. This closure of 8th grade is due to the quarantining of several 8th grade teachers. Administration has contacted all parents and guardians of students that have been in direct contact with the staff member who tested positive. If you were not contacted today by Waycross Middle administration, then your 8th grade student is not quarantined but they will need to stay home from school through January 29th. All 8th grade students will have work posted in google classroom daily and they are expected to do this work each day. Teachers will notify me if a student is not doing their work and I will be contacting those parents. We are moving forward with instruction in all of our classes. If you experience any issues in the digital platform, please contact me immediately at the school and we will get the problem fixed. If your student is in the band and needs their instrument, please call the front office to set up a time to pick up their instrument. That number is 287-2333. Again, this school closure only affects students in the 8th grade that are not in the self contained setting. If you have questions or concerns please call us at 287-2333. Attendance will be taken for all 6th and 7th grade students. Thank you for your continued support and please be safe. David Hitt Principal

Check out the Fall Sports Schedules under the Documents - Athletics Folder.

The alert system we use, Thrillshare, is based in Little Rock, Arkansas, so our call-outs will have a Little Rock caller ID. The number is (501) 712-2633. Please save it to your phone so you will know when the school system is calling with important information.