Be encouraging when your child faces challenges. Say "You can do it!"
Take turns with your child making statements. Decide whether each is fact or opinion.
Have your child read aloud to a younger sibling, a neighbor or you.
Have your child write a compliment or complaint letter to a company.

Friday, November 18, 2022 is the last day of school until Monday, November 28, 2022. All schools and the district office will be closed the week of November 21-25, 2022 in observance of Thanksgiving Holidays. Happy Thanksgiving from the faculty and staff of Ware County Schools!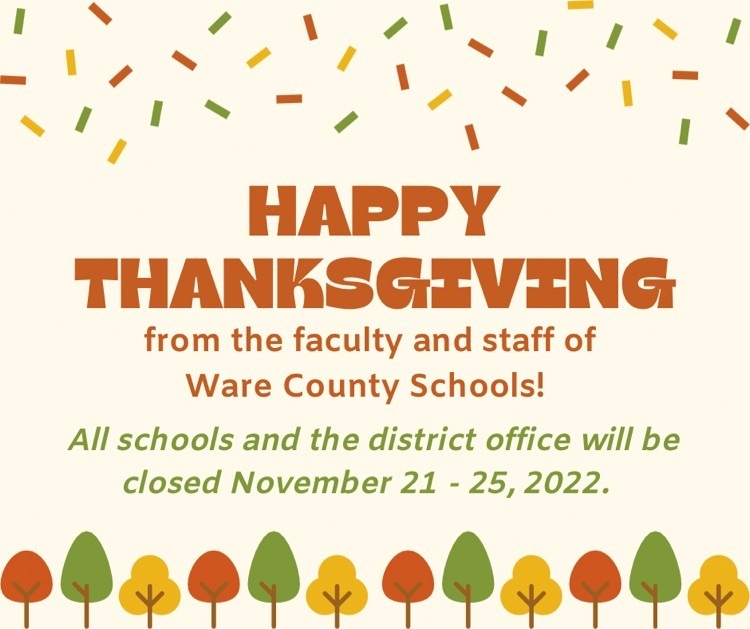 Have your child teach you something she needs to learn for an assignment.
See how many words you and your child can use to describe the day's weather. For example, foggy, overcast, muggy, wet, dreary.
Give your child a test-taking tip: Answer all the easiest questions first.
Middle schoolers need time alone with their thoughts and feelings. Suggest activities your child can do alone.
Start a conversation by noticing your child's nonverbal messages. If you see a smile, say, "You seem happy."
Due to inclement weather, Gator All-Star Academy and all out-of-district athletic competitions have been canceled for Thursday, November 10, 2022.
Ask your child a specific question about school, such as, "What are the biggest changes you've noticed about classes this year?"
Reminder: All official communication regarding school closures or changes to our operating schedule will be communicated to families through the district's Facebook page and website, as well as Thrillshare, our callout system. All Ware County schools will be in session through the remainder of the week (Jovemver 10-11, 2022) unless otherwise noted through those three communication channels. Thank you!
Ask your child to brainstorm dinner ideas for the week.
Exchange persuasive letters with your child. Try to convince each other of something.
Make a list of healthy, fast and easy breakfast foods your child can grab before school.
Play Alphabet Mix-Up. Choose a word; rearrange the letters in alphabetical order. Can your child figure out the word?
Select a book the whole family might enjoy. Pass it around until everyone has read it. Afterwards, discuss it together.
Talk with your child about mistakes. What are some ways people can learn from their mistakes?