Write an encouraging note to your teen and leave it on the dinner table.
Talk with your teen about privacy. He or she should never tell friends the passwords to social media sites or a cell phone.
DLP: Help your teen get in the habit of making a daily to-do list.
DLP: Urge your teen to make sure their assignments are legible.
DLP: Get your teen's input when making decisions about rules.
Check out the flyer for our upcoming flu vaccine dates for each school!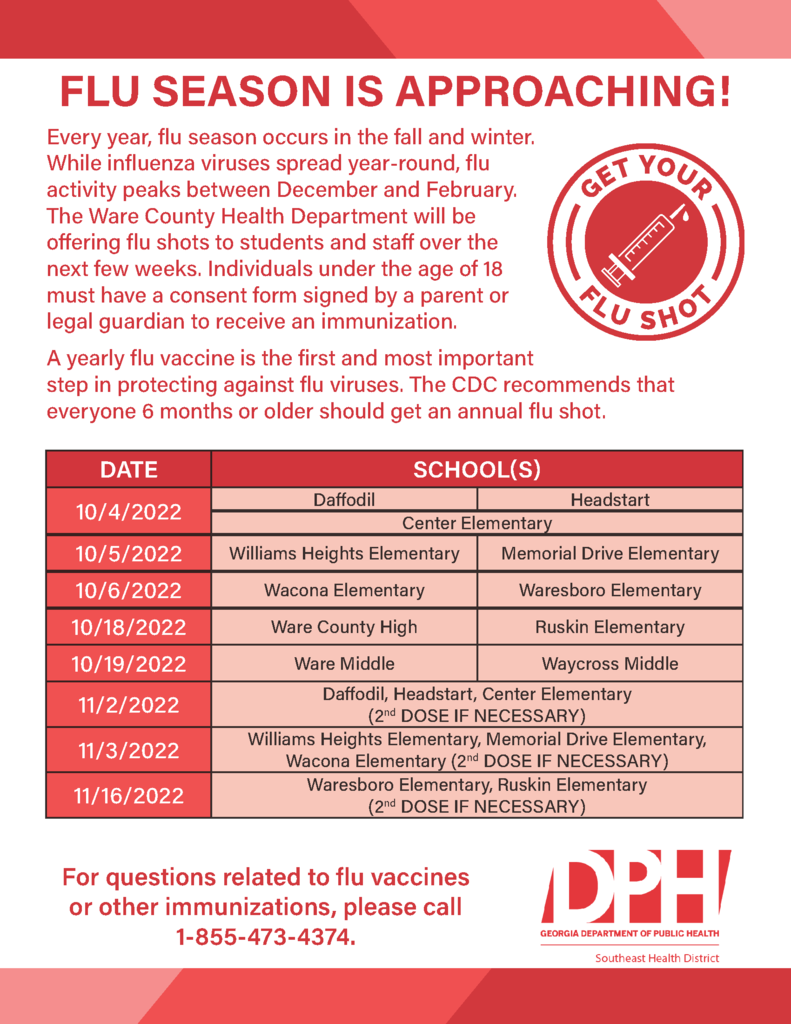 DLP: Teach your teen to use positive self-talk: "I've practiced this hundreds of times. I know how to do it."

WCHS Gator Bingo will be at 6 pm on Saturday, December 3 in the Ware County High Cafeteria. See image for details.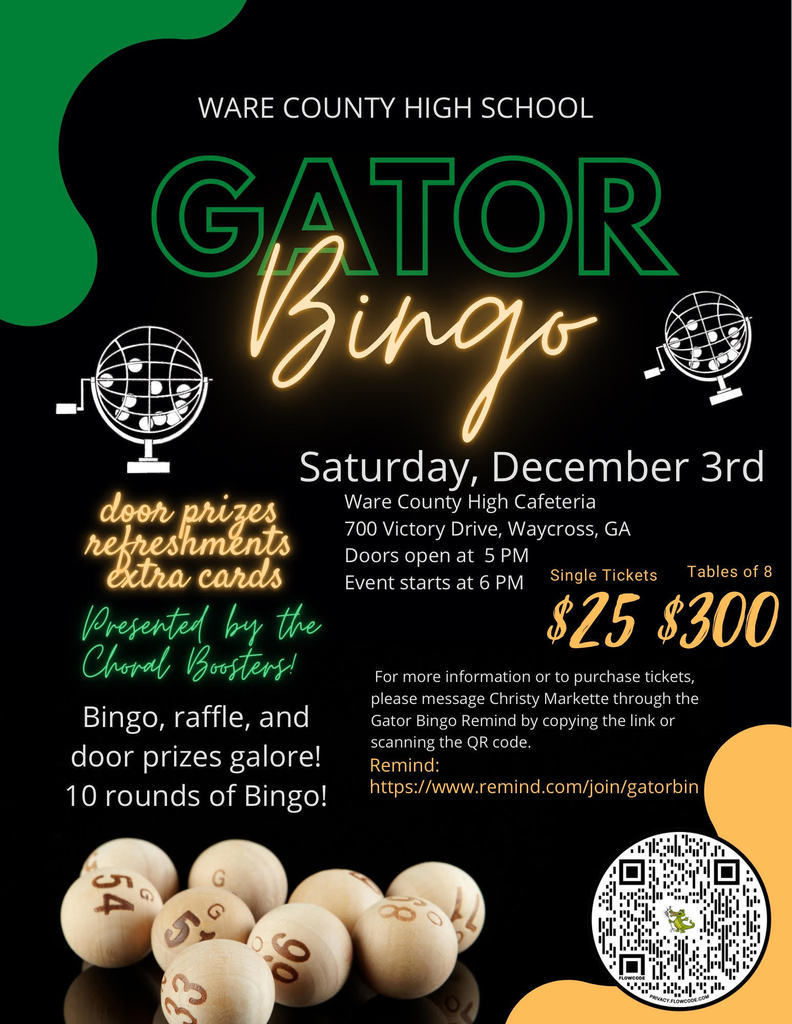 DLP: Help your teen make a savings plan for education or training after high school.
DLP: Write your teen a thank-you note for something helpful he's done.
DLP: Tell your teen about your day in as much detail as you would like to hear about her day.
DLP: Designate places to keep items your teen always loses, such as house or car keys.
DLP: Ask your teen to show you how to do something on the computer or your smartphone.
DLP: Consider giving your teen a clothing allowance. It helps students learn financial responsibility and can prevent arguments.
DLP: Think your teen is too old for reading aloud? Try it. Or try listening to audiobooks together.
DLP: Hear a compliment about your teen? Pass it on to them.
We are excited to unveil our latest website feature called Daily Learning Planner (DLP) in the Live Feed section! Here, families will find ideas they can use to help children do well in school. We will post a new tip or resource each school day. The district Live Feed will contain a general tip that applies to most students while school Live Feeds will highlight tips for students in elementary, middle, or high school. Our first tip will post later today.

A Title I Parent Meeting will be held on Thursday, September 15 at 5:30pm in the WCHS cafeteria. Please join us to learn more about our Title I program and parent involvement opportunities.

A meeting for the senior cohort 2023 will be held on Thursday, Sept. 8 from 6pm - 7pm via google meet. Graduation requirements and other important information about your senior year will be discussed. Check your school email for the link to join.

Attention Class of 2023 and 2024! ,Monday, August 29 is the order day for Senior supplies (Cap & Gown, graduation announcements, and senior gear), letterman jacket orders, and Class of 2024 class ring orders. Orders will be taken in the cafeteria during all lunches.