Attention students and parents! Beginning Tuesday, May 31, the Gator Den Entrance to WCHS will be closed. Report card, transcripts and other necessary school business will be handled through the Rotunda Entry Career Center. The public will need to enter through the Rotunda,

Summer EOC testing will be held June 14-16.

WCHS will hold Summer School from 8-12, Monday through Thursday from June 6 - June 30. Only students who had a final class grade on their report card between 55 - 69 from the Fall or Spring Semesters are eligible to attend Summer School to recover these credits. Students will need to arrange their own transportation to and from school. Breakfast and lunch will be provided for students in attendance.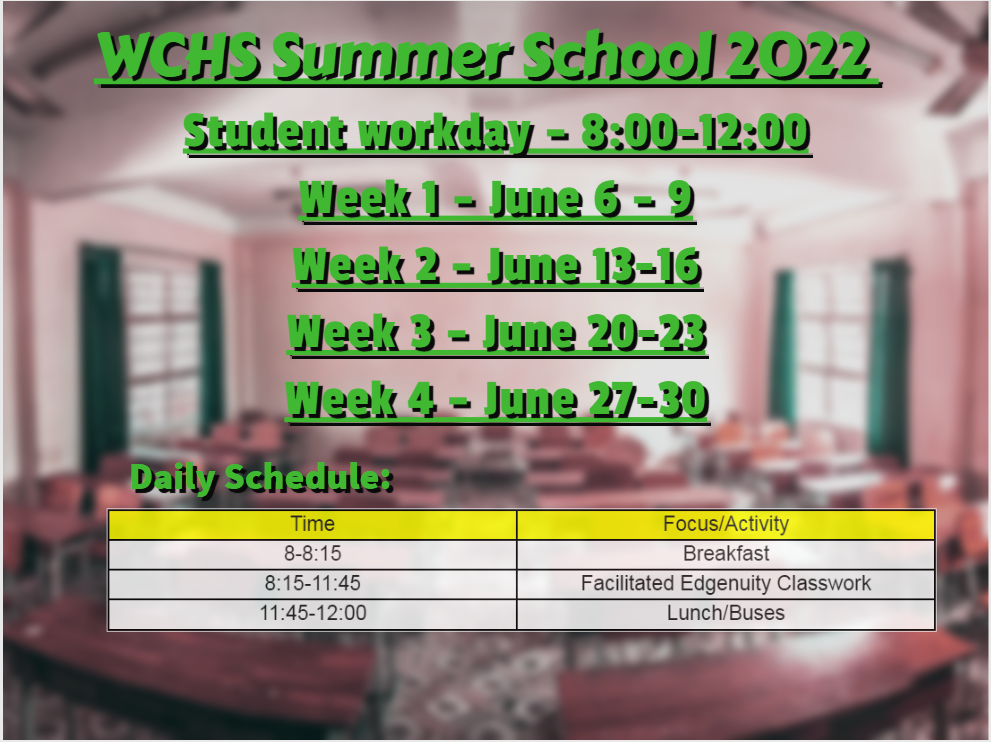 All Chromebooks/chargers are due Thursday, May 19th. For any Chromebook/charger not returned, students will be charged $250 for Chromebook/charger, and the Chromebook will be deactivated until it is returned to the school unless special arrangements have been made.

IMPORTANT info - Please see the attached Graphic!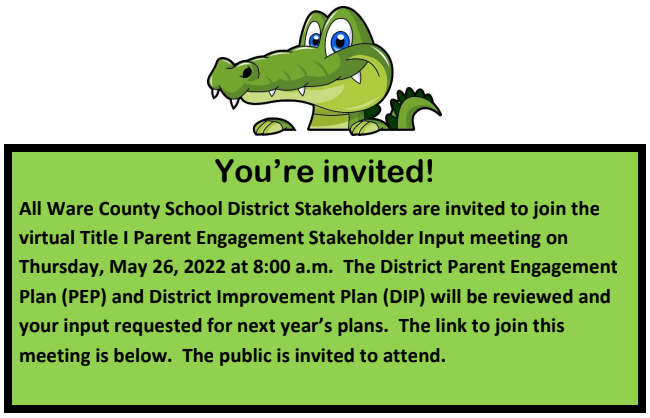 Good Afternoon Gators! NEXT week is the last week of school for underclass students (grades 9, 10, & 11). Monday, May 16th & Tuesday, May 17th are REGULAR school days & attendance IS required. Wednesday May 18th & Thursday, May 19th are Final Exam Schedules, EARLY release days. FRIDAY May 20th is Final Exam Makeups BUT BY TEACHER appointment ONLY. Please see the attached graphic specific info.
Here's our most up-to-date 2022-2023 calendar, approved at the May 2022 board meeting. Click Calendars and Menu under the main menu to access .pdf copies you can print.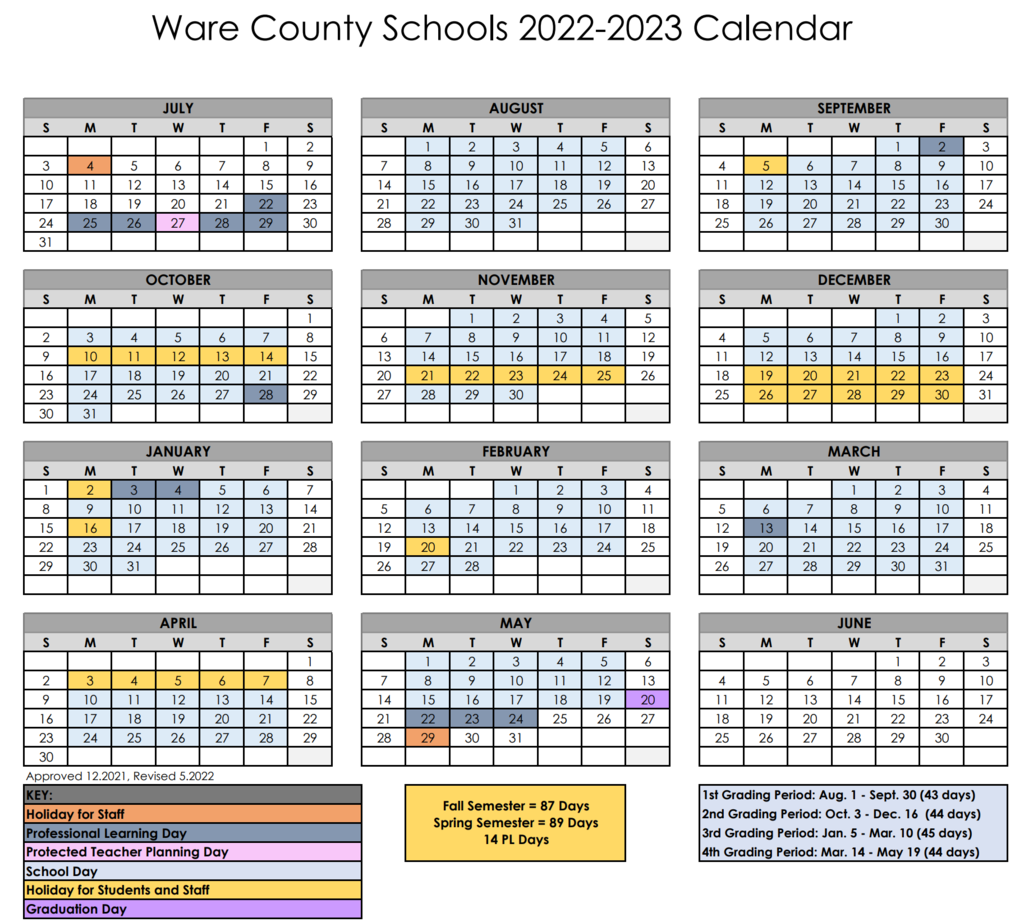 WCHS Dual Enrollment Summer Orientation will be held May 10 at 1:30 in the PAC. This orientation is for new and returning students taking in-person and online summer courses. All forms must have been submitted to attend.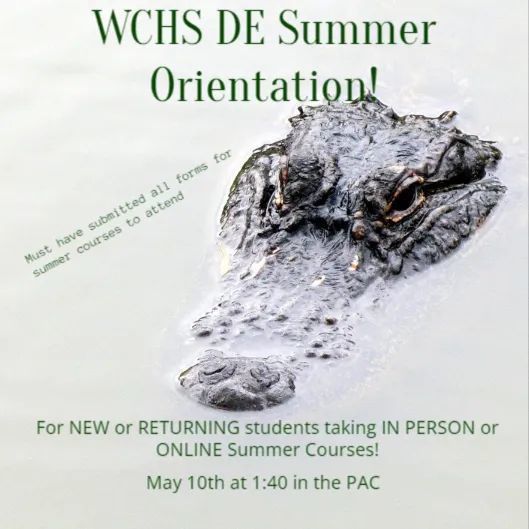 Attention Class of 2022! This message contains important information regarding your final weeks of school and graduation. View images for details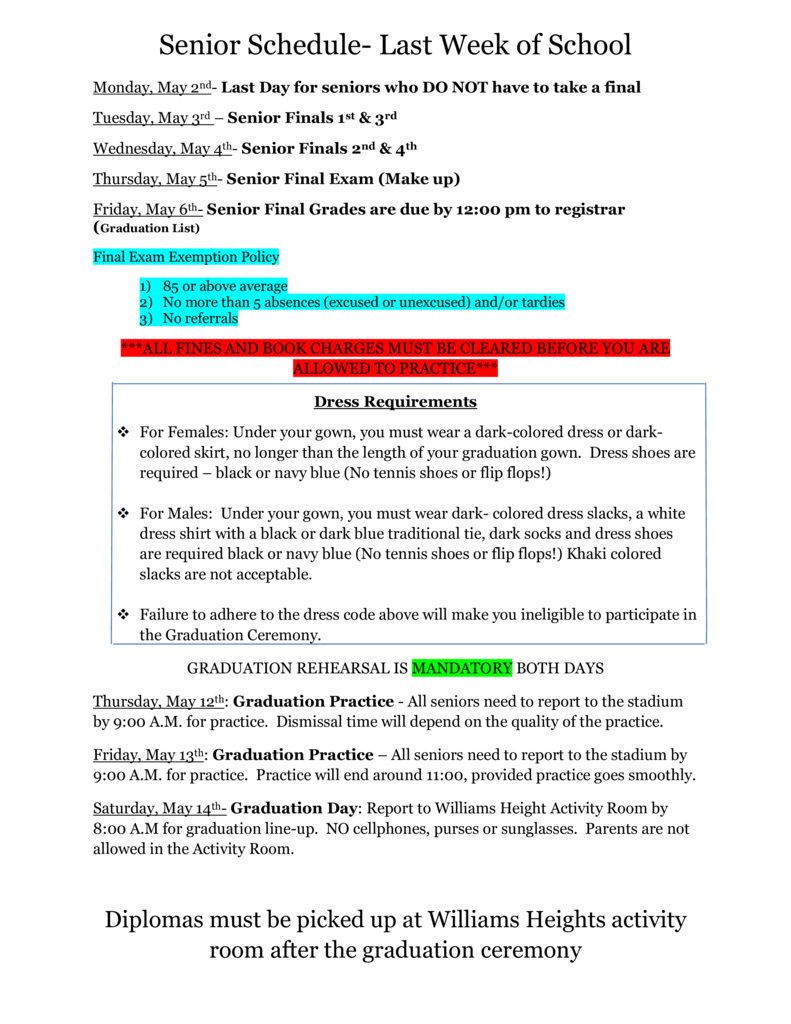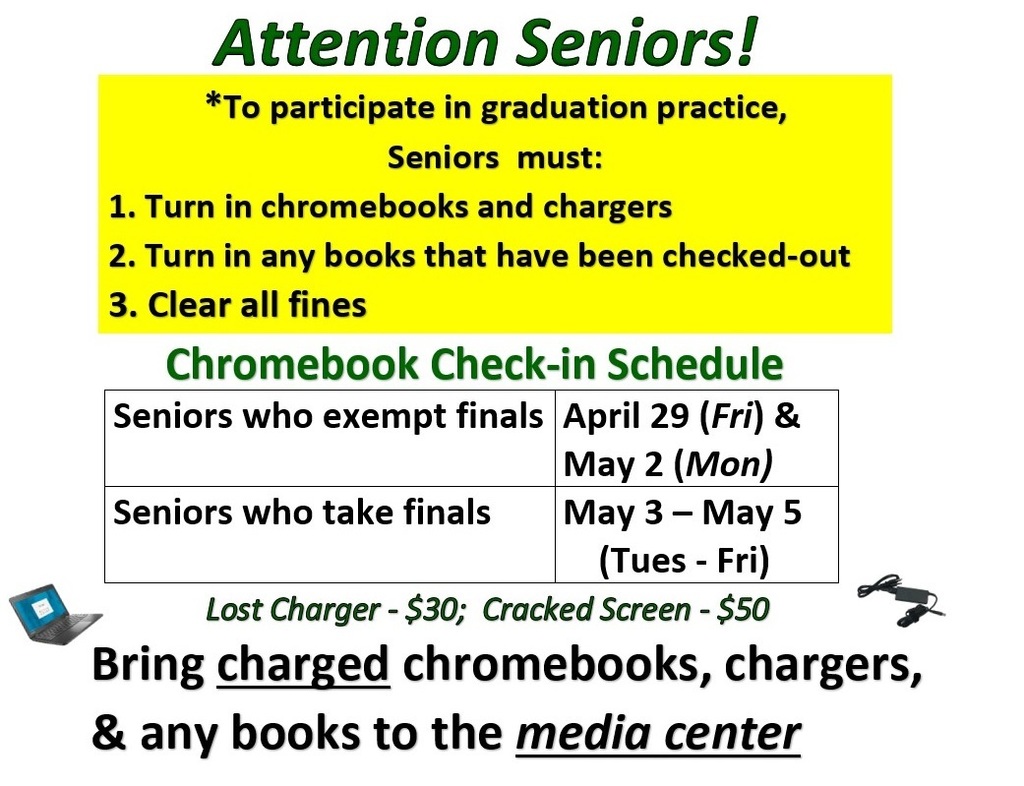 Attention parents and students! Are you interested in Dual Enrollment for the 2022-2023 school year? SGSC is offering the Accuplacer at WCHS on April 20. View image for details.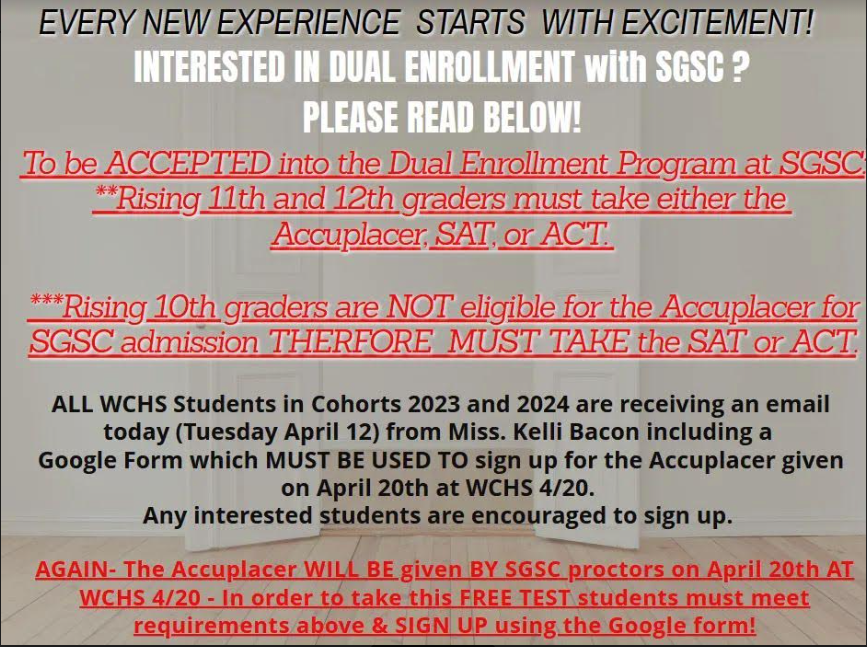 A dual enrollment information meeting for parents and students will be held on March 15, 2022 from 5:00 - 6:30 PM in the WCHS cafeteria. Representatives from Coastal Pines Technical College and South Georgia State College will be at this event for information and questions. Come learn more about Dual Enrollment!

Reminder - Friday, March 11, 2022 is a Staff Professional Learning Day. Students do not have school that day.
Don't forget the Informational Virtual Meeting to be held Tuesday, March 1 from 5:00 - 6:00 PM at
https://meet.google.com/gur-ftpt-xj
for students in grades 5 - 11 who are interested in auditioning for Golden Gator Band Auxiliaries 2022 football season. It's not too late to sign up!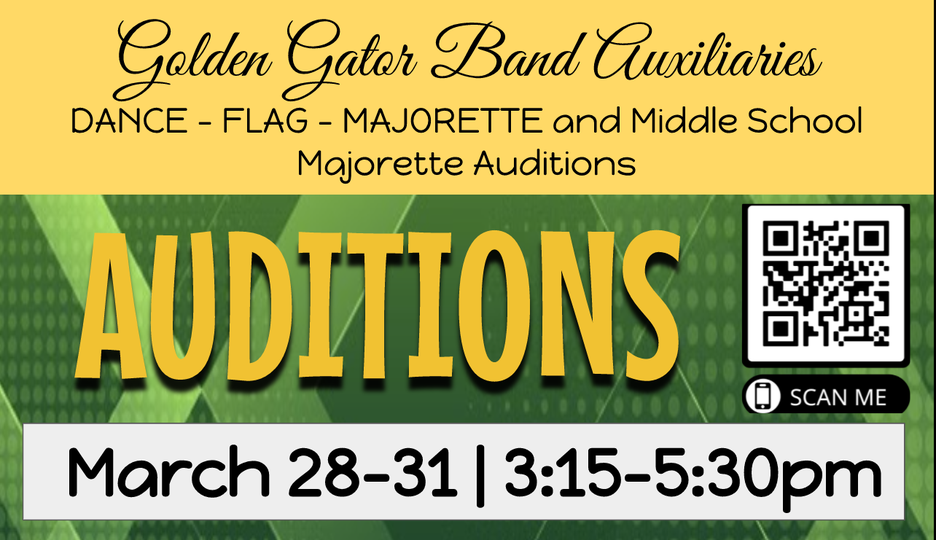 Don't forget: Friday, Feb. 18th - Professional Learning Day for Staff (students do not attend school) Monday, Feb. 21st - Presidents Day Holiday for all students and staff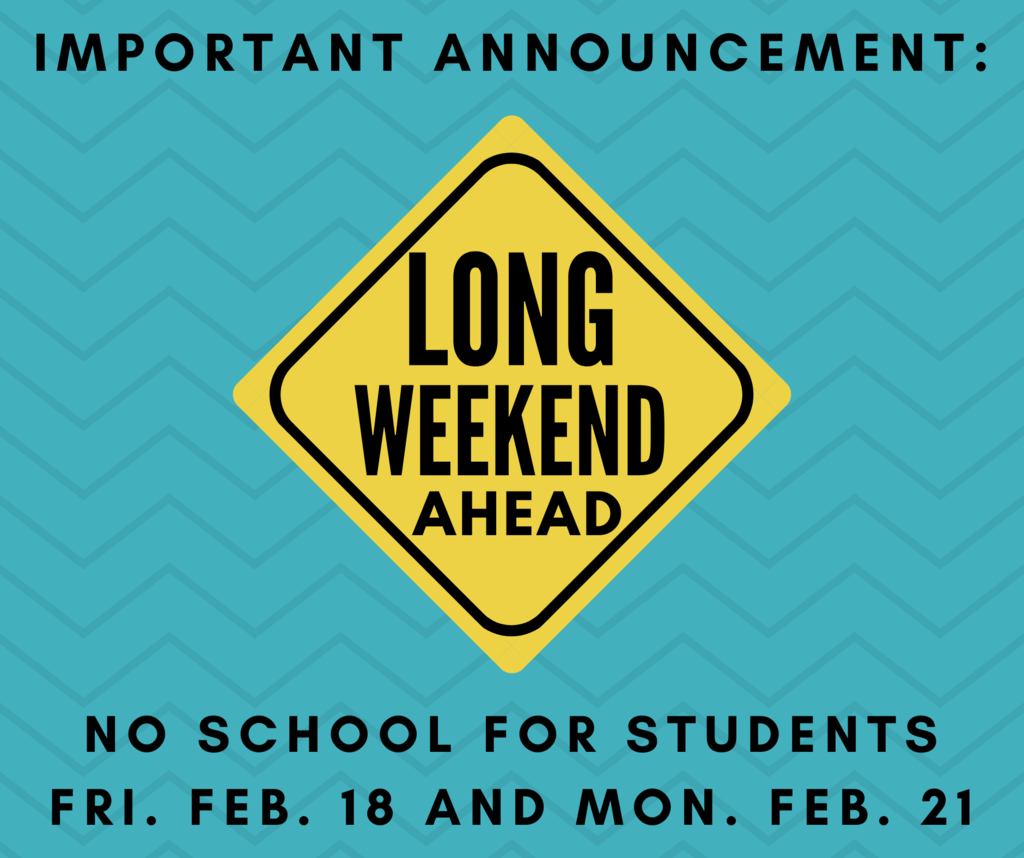 Reminder: February 18 - 21, 2022 is a long weekend for students!

EOC Mid-Month testing will take place February 15 - 17.

EOC Mid-Month testing will take place January 18 - 20.

It's time for student registration for the next school year! Students will receive registration forms in TAA January 12-14. Teachers will be contacting parents January 18 -21 to as a reminder. The deadline to return registraiton forms is Friday, January 21.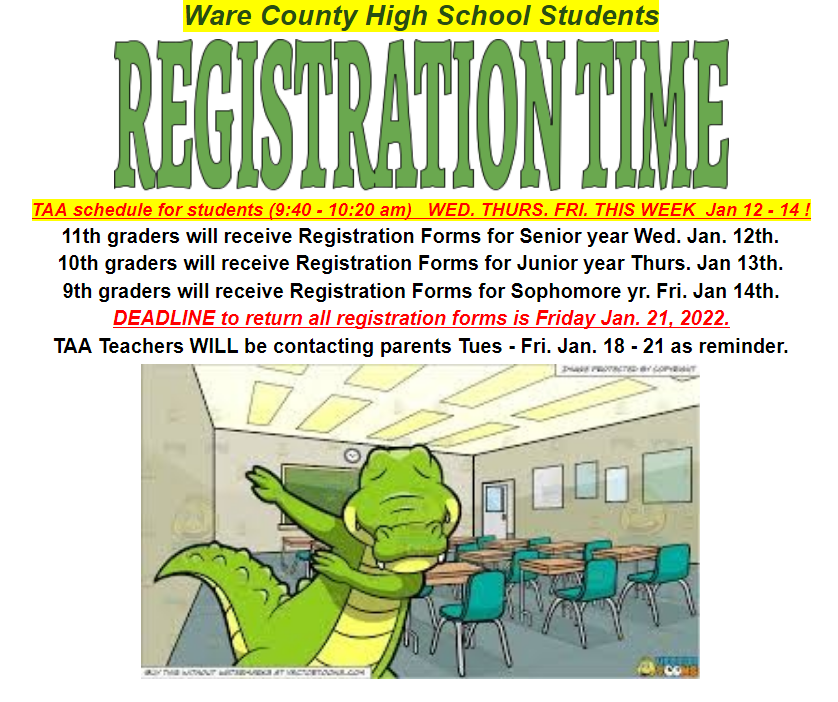 School resumes Thursday, January 6, 2022, for both traditional and digital students. We look forward to welcoming our students back to class. Buses will be back on the roads, so please travel safely and allow additional time in your morning and afternoon commute. Thank you!