Ware County Schools will be closed November 22 - 26, 2021 for Thanksgiving Holidays. School will resume Monday, November 29, 2021. We wish you and your family a Happy Thanksgiving!
The Ware County School System will observe Early Release on Friday, November 19, 2021, as scheduled on the 2021-2022 system calendar. Both middle schools and Ware County High School will dismiss at 11:30 am. DAFFODIL will release at 12:30 pm, and elementary schools will release at 1:00 pm.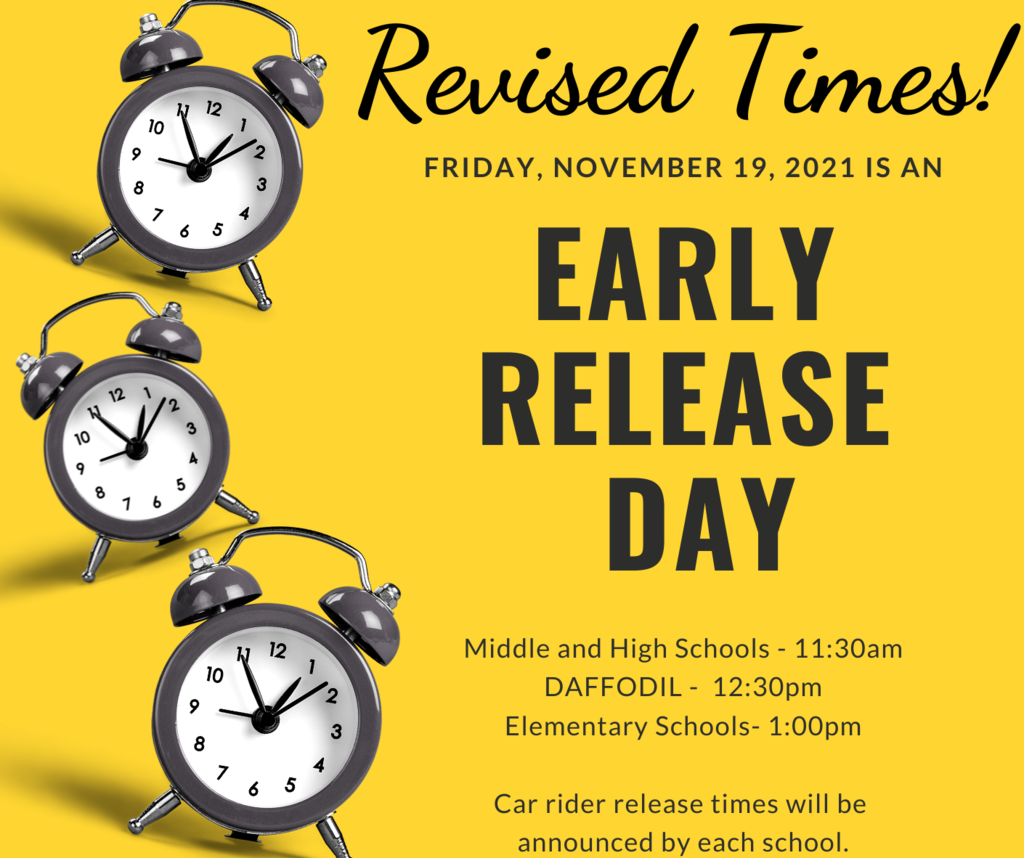 The Ware County School System will observe Early Release on Friday, October 29, 2021. DAFFODIL Pre-K will dismiss at 11:30 am. All elementary schools and Ware County students attending Harrell Learning Center will dismiss at 12:00pm. High school students will release at 12:30 pm. Both middle schools and the Central Office will release at 1:00 pm. Thank you!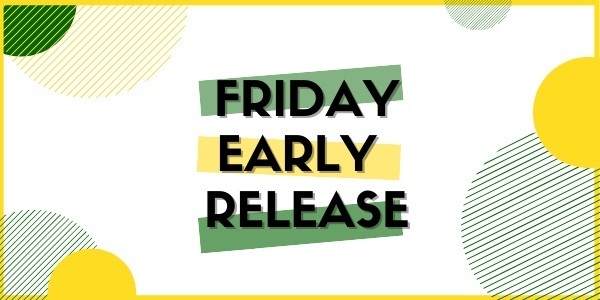 Picture days at Ware County High School are October 18 & 19. Make-up picture days for seniors will also be held on those days. See image for the detailed schedule.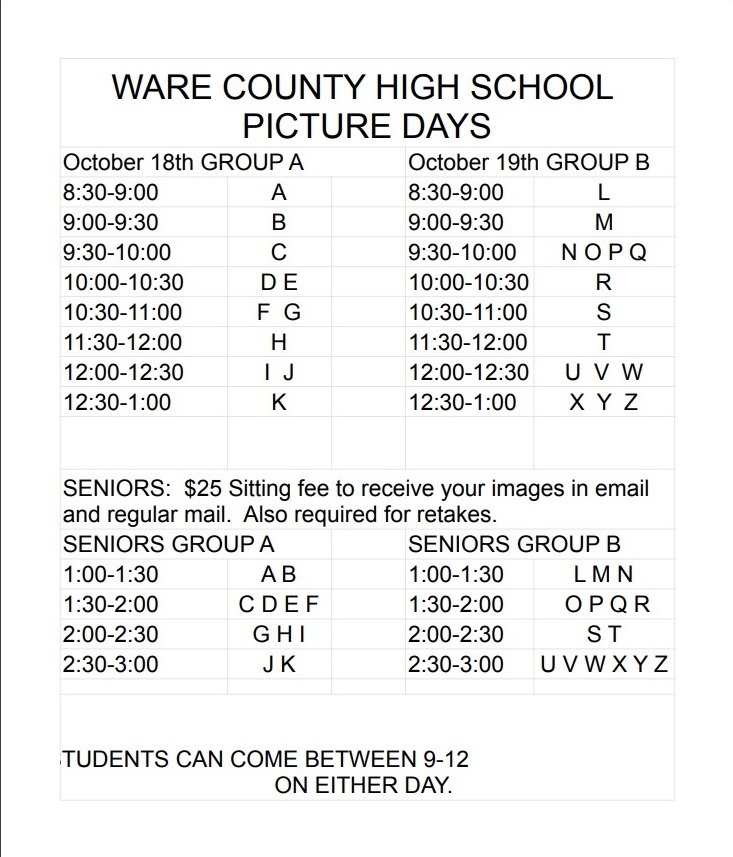 Important SAT change! The SAT test scheduled for October 2 has been postponed to October 16.
Don't forget that you can purchase insurance for your child's Chromebook for just $22. The policy covers both home and school usage through the last day of school and can help protect you from having to pay for accidental damage, cracked screens, liquid submersion, fire, flood, loss, or theft. For more information, view the flyer at
https://5il.co/w8m1​
or visit
www.schooldevicecoverage.com
to purchase a policy. The portal closes September 30, so act now!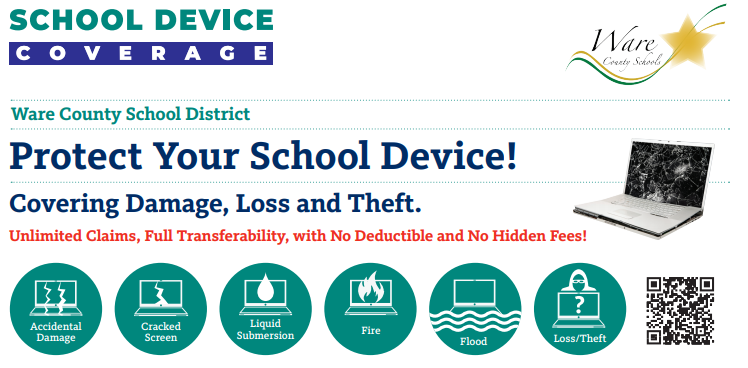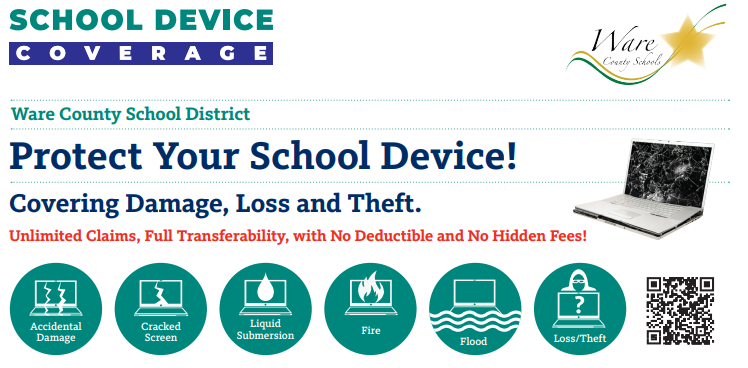 Don't forget - The deadline to sign students in grades K-12 up for Digital Learning for 2021-2022 is Wednesday, June 9 at 11:59pm. The application is available at bit.ly/WCSDigLearnAppSY22. There is no digital learning option for Pre-K students. Contact us at
feedback@ware.k12.ga.us
with any questions.
Integrity Health will be offering Sports Physicals June 1 - 4, 2021 for $15. Please call the office, located at 808 Beacon St., at (912) 490-4325 to make an appointment. 
Applications are now being received to participate in Digital Learning for the 2021-2022 school year. Parents/guardians wishing to enroll their child in digital learning must complete the application, located at
http://bit.ly/WCSDigLearnAppSY22
, in order to enroll. Applications will be accepted through 11:59 pm on Wednesday, June 9, 2021. Please note: There is NO digital learning option for Pre-K students.
Ware County Schools will hold an ESSER 3 Stakeholder Input meeting on Thursday, May 27, 2021 at 5:30pm at the Transportation Department, located behind Wacona Elementary School. The public is invited to attend.

ALL WCHS students MUST turn in chromebooks and chargers this week (5/17-5/21) NO EXCEPTIONS. Returns may be made by entering the bus loading lane at Wadley Road. Enter through the media center glass doors. Students attending summer school will be provided a chromebook on the first day of attendance.
The schedule for the last week of school for Ware County High School is as follows: Monday, May 17th: Finals for 1st and 3rd block classes Tuesday, May 18th: Finals for 2nd and 4th block classes Wednesday, May 19th: Makeup for finals The high school will release at 11:55am Monday through Wednesday and 1:00pm on Thursday and Friday for the week of May 17 - 21, 2021.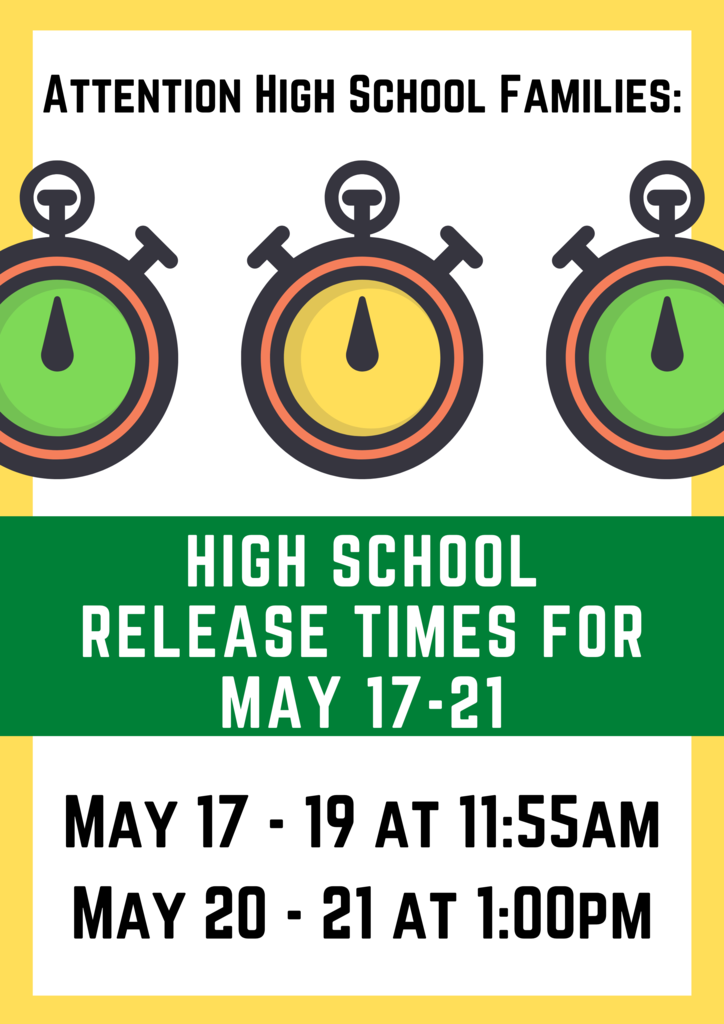 Elite Primary Care is offering Sports Physicals Thursday, May 20. An appointment is required. The Ware County School System does not promote one provider over another; we are simply making the public aware of this opportunity.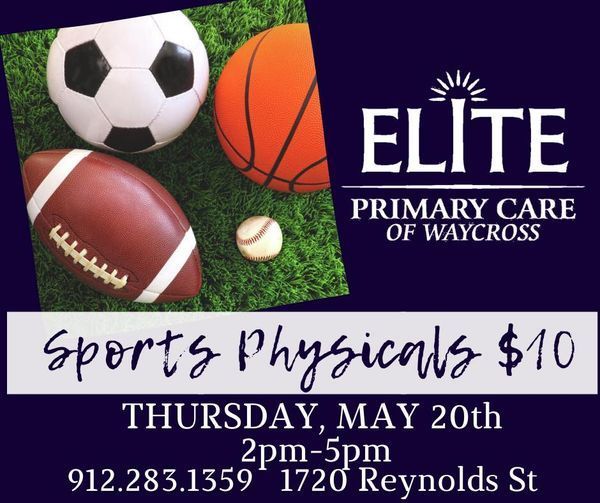 WCS Families, we are excited to announce new school hours for the 2021-2022 school year. We hope that sharing this information early will help you plan for the next school year. DAFFODIL Pre-K 7:30am - 2:15pm Elementary Schools 7:30am - 2:30pm Middle Schools 7:50am - 3:30pm High School 8:15am - 3:15pm
The graduation ceremony will be livestreamed at
www.nfhsnetwork.com/warecounty
Saturday morning. If there are technical issues with NFHS, we will switch to a Facebook livestream and update across all platforms so viewers will know where to find the stream.
Hey, Seniors! We will have mandatory graduation practice on Thursday and Friday starting at 8:30 AM. Students who do not attend practice Thursday and Friday will not be permitted to walk at graduation. The graduation ceremony will be held Saturday, May 15th at 9am.  Seniors need to report to the stadium no later than 8am Saturday morning. Please check your weather app. We are expecting lower than normal temperatures on Thursday, so you will need to dress accordingly. Thank you!