Tell your child a story that teaches a moral lesson.
All Ware County Schools and the Central Office will observe Spring Break April 3 – 7, 2023. All school system facilities will be closed to the public next week. We will reopen Monday, April 10th. We hope you have a safe and restful break and return ready to finish out this school year strong. We look forward to seeing students and staff on campus the remainder of this week and then again on April 10th.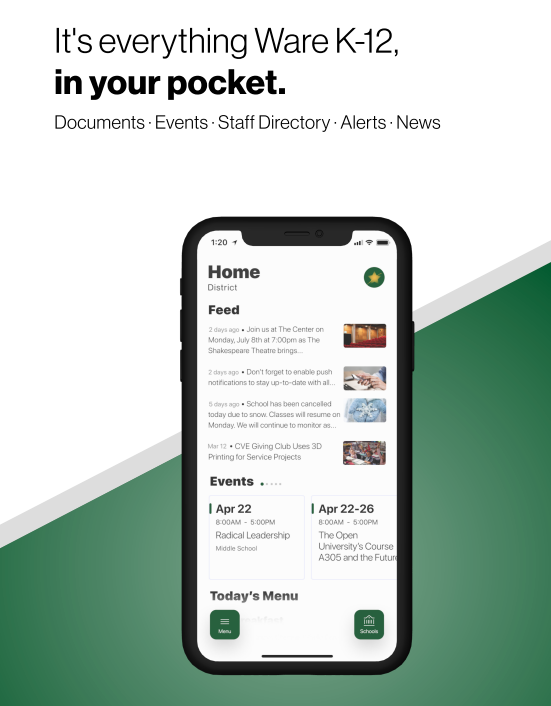 Use math terms while talking with your child. For example, "This street is parallel to ours."
Ask your child to write a proposal for a privilege he or she has requested.
Make this a Surprise Week during which family members do nice things for each other.
Make it clear that you expect your child to follow school rules.
At the market, have your child estimate how many apples are in two pounds. Use the scales to check.
Be on the lookout for things your child does right. Praise progress and successes.
Ask your child to tell you about the similarities and the differences between his or her classes.
While your child does homework, do some quiet work yourself.
Give family members marshmallows and uncooked spaghetti. See who can build the tallest tower.
Choose a spot in your home where family members can post things they are proud of. Post something your child has done.
We're thrilled to announce the newly updated app for Ware County Schools! It's everything Ware K-12, in your pocket. Click the link to download now. Download for Android
http://bit.ly/2FkxHcX
Download for iPhone
https://apple.co/3GIg0zb
Does your child know the names of the top elected officials from your state or province? If not, help him or her learn them.
Teach your child a three-step process for any job: Plan, do, finish.
Ask questions about school to get an idea about what your child is learning and doing.
Have your child select and read a news article to you. Share opinions about it with each other.
Look at the course catalog of a local college. Which topics interest your child?