DLP: Look over your child's completed assignments. Give compliments first, then helpful suggestions.
DLP: Tell your child about books you loved when you were their age. Need suggestions for titles your child may enjoy reading? Ask his or her school media specialist.
Reminder: 2nd Grade parent workshop, September 29th at 8:00am. The meeting will be located in the Data Room.
DLP: Choose a Word of the Day. Challenge family members to use it in a sentence.
Check out the flyer for our upcoming flu vaccine dates for each school!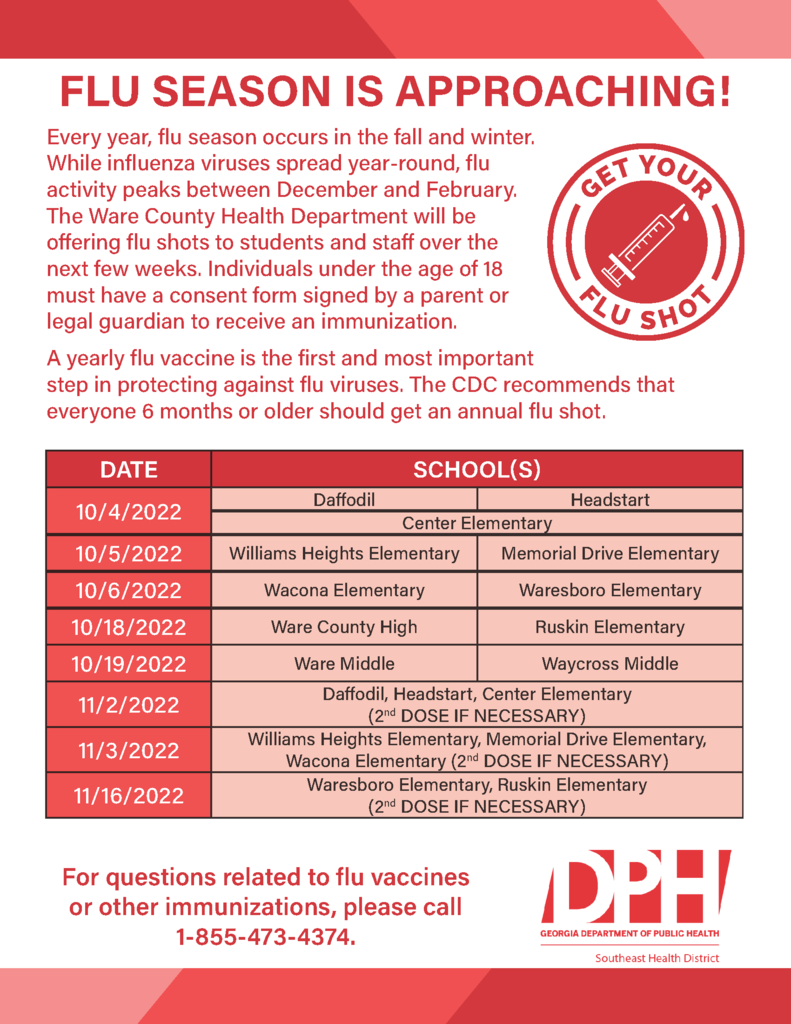 DLP: See how many ocean creatures you and your child can think of. What about green animals or animals with spots? If your child is old enough, ask them to name mammals, reptiles, or amphibians. You can be as creative as you like with deciding on categories!
Reminder: 1st Grade parent meeting, September 27th at 7:30am. The meeting will be located in the Data Room.
DLP: Talk about honesty and why it is so important. Point out examples of people who demonstrate honesty.
DLP: Make up a secret code with your child. Send messages to each other.
DLP: Show your child 10 objects. Have them close their eyes while you remove one. Can they guess what's missing?
DLP: Exercise as a family. Choose an activity everyone will enjoy.
DLP: Ask your child to tell you something they learned today. Then tell them something you learned today!
DLP: Talk about three ways you used math today. Ask everyone in the family how they used math.
DLP: Help your child find the best time to do assignments. Some kids are more focused right after the school day ends while others are at night.
DLP: Have a Family Reading Night. Pop some popcorn and have everyone curl up with a good book!
We are excited to unveil our latest website feature called Daily Learning Planner (DLP) in the Live Feed section! Here, families will find ideas they can use to help children do well in school. We will post a new tip or resource each school day. The district Live Feed will contain a general tip that applies to most students while school Live Feeds will highlight tips for students in elementary, middle, or high school. Our first tip will post later today.
Parents and Guardians: You are cordially invited to Waresboro Elementary's Annual Title I Meeting on Tuesday, September 13, 2022, at 5:30 PM in the school cafeteria. During the meeting we will discuss what Waresboro's role is as a Title I school and how our Title I funds are used to advance the education and achievement of all students. We will also be offering information about important topics such as state testing and family engagement. We do hope to see you there!
Labor Day Holidays No School Friday, September 2nd & Monday, September 5th
📆 M A R K Y O U R C A L E N D A R S 🐊 Don't miss the Ware County High School Varsity Cheerleaders on the following Friday mornings! They will be at Waresboro Elementary selling gator spirit gear before school. •August 26th (TOMORROW) •September 9th •September 23rd •October 7th •October 21st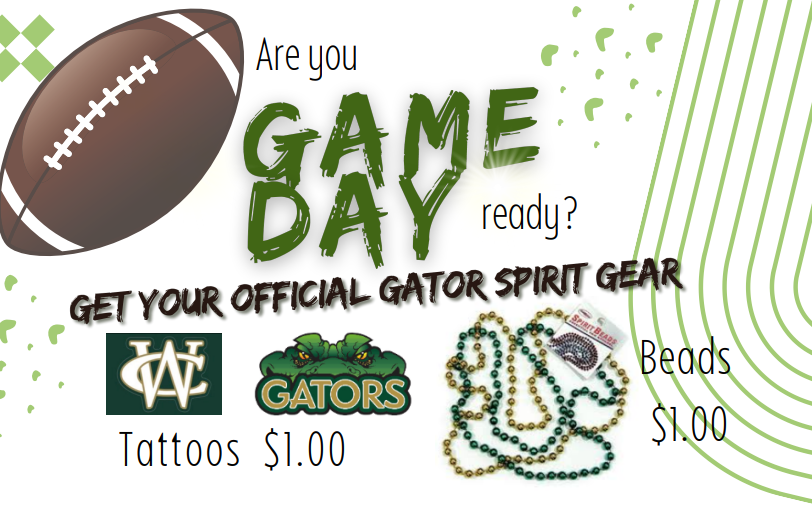 Members of the Ware County Schools Police Department, in conjunction with both city and county agencies, will perform a training exercise on the campus of Williams Heights Elementary School on Tuesday, July 19, 2022. Travelers in the area may see safety officials "respond" to an alert at the school with lights and sirens, simulating the noise, possible traffic disruption, and other factors that might occur in a real emergency. PLEASE NOTE THAT THIS IS A PLANNED DRILL.