Waresboro Elementary recently held its School Spelling Bee. Participants included fourth graders Felipe C., Bailey D., Bryson M., Cade O., and Jermaine S. Fifth grade participants included Gage Be., Jharyn B., Dustin C., Nadya De., Martin E., and Collin P.


The Waresboro School Spelling Bee came down to two fourth grade contestants, with Bailey D. ultimately coming out on top as the School Spelling Bee Champion! Cade O. was runner-up. Bailey will represent Waresboro at the System Spelling Bee on February 4th, 2019 at the Ware County Board of Education.

Waresboro also conducts a 3rd Grade Spelling Bee in order to prepare students for the School Spelling Bee for the next year. Third grade participants included Tristen B., LeTarrian H., Miley J., Asher L., Jazmyne M., Onnie ., Abigail T., and Shamaya W. The 3rd Grade Spelling Bee Winner was LeTarrian H.

We are so proud of all of our School Spelling Bee Contestants!


Gina Howell is Acting Principal of Waresboro Elementary.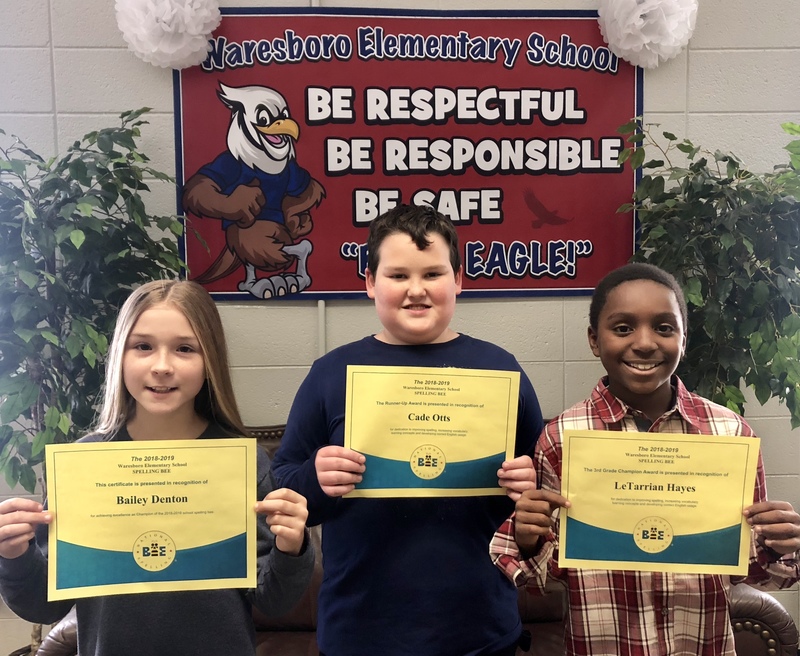 Pictured L-R: School Champion Bailey D., School Runner-up Cade O., and 3rd-Grade Winner LeTarrian H.