Ware County Schools will be closed November 22 - 26, 2021 for Thanksgiving Holidays. School will resume Monday, November 29, 2021. We wish you and your family a Happy Thanksgiving!
The Ware County School System will observe Early Release on Friday, November 19, 2021, as scheduled on the 2021-2022 system calendar. Both middle schools and Ware County High School will dismiss at 11:30 am. DAFFODIL will release at 12:30 pm, and elementary schools will release at 1:00 pm.
The Ware County School System will observe Early Release on Friday, October 29, 2021. DAFFODIL Pre-K will dismiss at 11:30 am. All elementary schools and Ware County students attending Harrell Learning Center will dismiss at 12:00pm. High school students will release at 12:30 pm. Both middle schools and the Central Office will release at 1:00 pm. Thank you!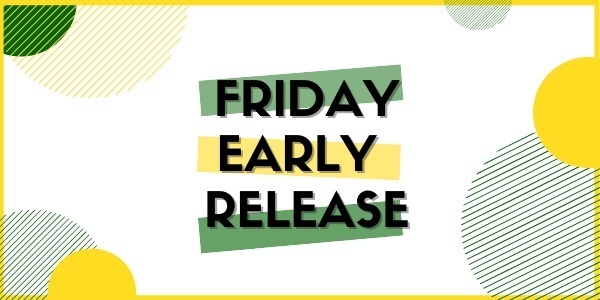 Don't forget that you can purchase insurance for your child's Chromebook for just $22. The policy covers both home and school usage through the last day of school and can help protect you from having to pay for accidental damage, cracked screens, liquid submersion, fire, flood, loss, or theft. For more information, view the flyer at
https://5il.co/w8m1​
or visit
www.schooldevicecoverage.com
to purchase a policy. The portal closes September 30, so act now!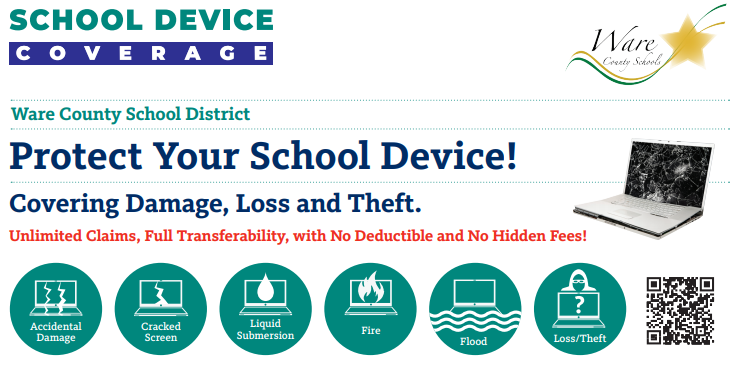 Good morning! In order to have about the same number of students in the building and classrooms. Ware Middle School will divide a little differently. Students with last names beginning with A-L are Group A; they will attend school face-to-face on Mondays and Wednesdays. Students with last names beginning with M-Z are Group B; they will attend school face-to-face on Tuesdays and Thursdays. Students will be broken into two groups based on the last name of the oldest student in the household, and all students in that household will attend face-to-face on the same days to assist families with establishing a consistent schedule. Again, if multiple students in the household have different last names, the group assignment is determined by the last name of the oldest student in the home.

Good Morning Gator Nation! Hope you are all having a fabulous day!! We are having an AR Fundraiser. It was just approved last night! We are selling shirts designed by the very talented Coach Hinely. 100% of our profit will go towards AR incentives. Shop below with this link. Selling starts now through September 30th. They will be delivered here October 7th! Paper copies will come home soon. Thank you in advance for your support! We appreciate it so much! Share away! Anyone can get one!
https://shop.huckleberryappare
... Have a great day! Mrs. Mancil and Ms. Kauffman

Please bring all Chromebooks, Calculators, and Books that have not been turned in to Open House or the first day of school. Please turn them in to the Media Center. Students will not be able to check out a device if they have any Chromebook fines on their account. We would appreciate it so much and look forward to seeing you next week!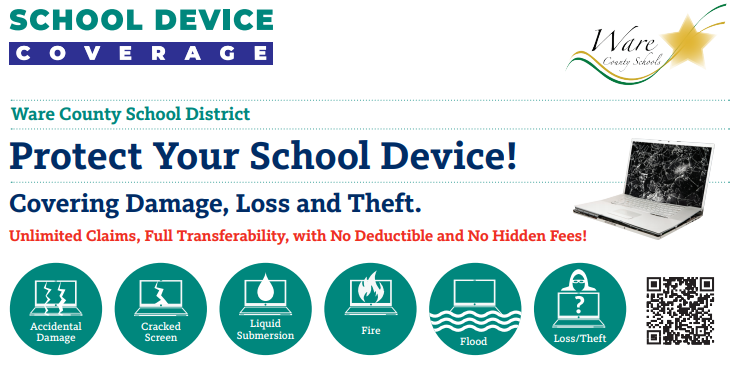 2021-2022 Supply List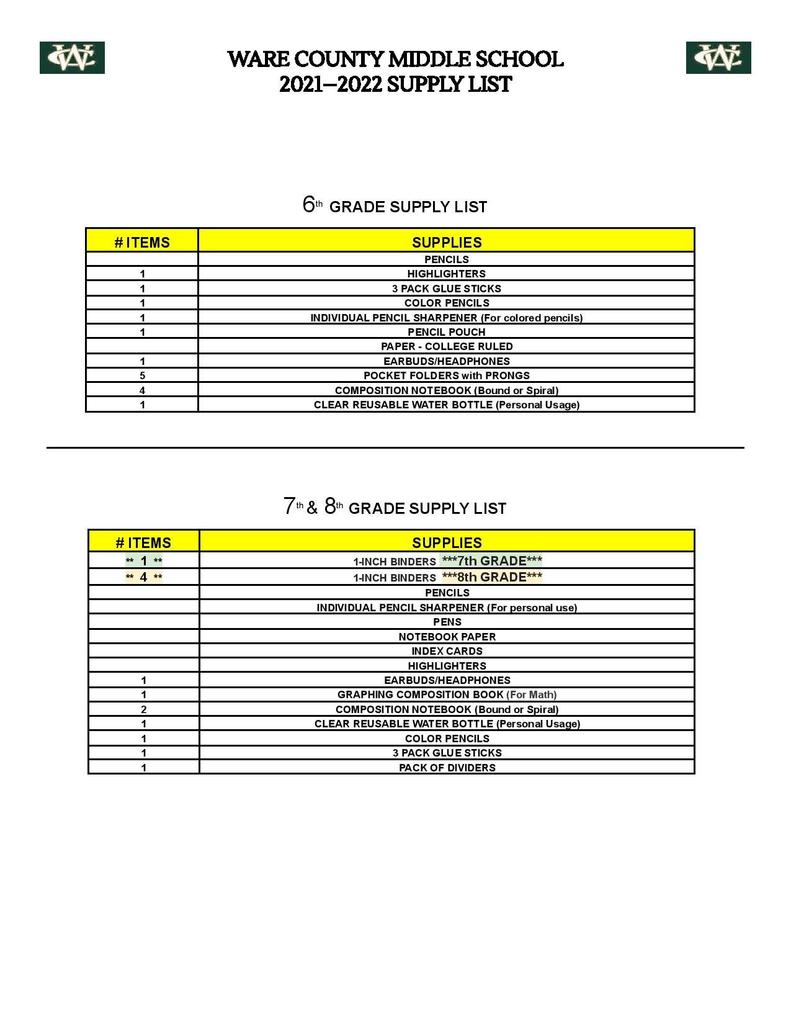 The second session of summer school has started! If your child was invited to attend, please be sure that they are present at Ware Middle each day from 8:00am - 12:00pm. Thanks!

DRESS CODE cont... **UNACCEPTABLE** *-Hats, athletic head bands, bandanas, or any other head gear Combs/picks/curlers *-See-thru garments (if sheer top is worn, then the under shirt must completely meet school dress code) *-Halter tops/tube tops/crop tops/tank tops/racer back tops/spaghetti straps Muscle shirts *-Low-cut/revealing tops or blouses *-Visible undergarments *-Clothing with holes above the knee (ripped, torn, cut, frayed) THAT SHOW the SKIN or under garments to include leggings/spandex *-Vulgar and inappropriate designs and language *-Mini-skirts/dresses *-Nose rings Facial piercings & gages *-Any other extreme in dress that is deemed inappropriate by the administration *-Gang-related attire or identifying features (This will include anything brought to administrator's attention) ***-Leggings/tights/yoga pants (pants without real pockets or a working button) with tops *-Pajamas, Bedroom shoes, Soft Rubber Shower shoes, *-Sagging pants, Baggy pants *-Any clothing fad or article of clothing or non-traditional manner of wearing clothing/hair color that attracts undue attention and/or is distractive of the instructional process and/or the routine operation of the school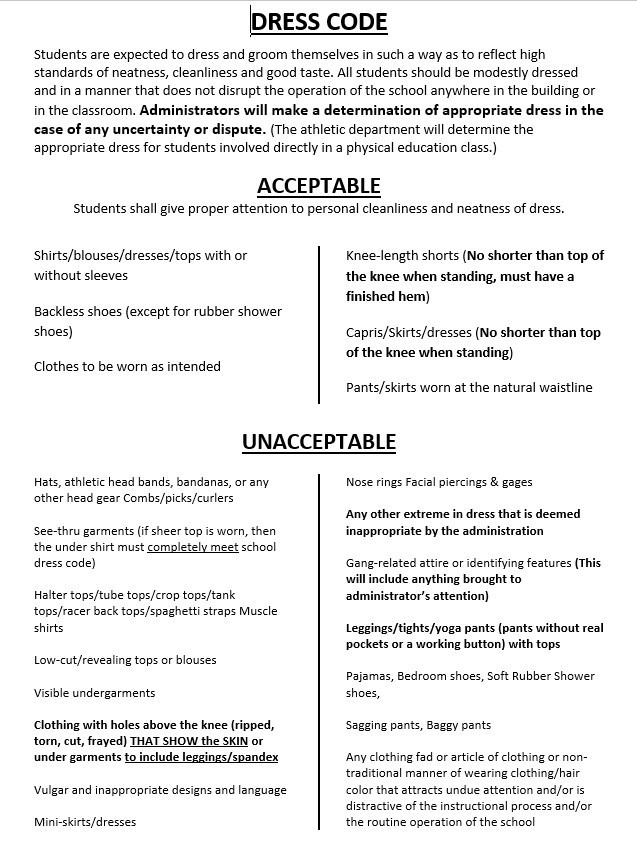 DRESS CODE cont... **ACCEPTABLE** *-Students shall give proper attention to personal cleanliness and neatness of dress. *-Shirts/blouses/dresses/tops with or without sleeves *-Backless shoes (except for rubber shower shoes) *-Clothes to be worn as intended ****-Knee-length shorts (No shorter than top of the knee when standing, must have a finished hem)*** ****-Capris/Skirts/dresses (No shorter than top of the knee when standing)*** *-Pants/skirts worn at the natural waistline ---cont...

Hi WCMS Parents!! Because we know that it's getting about time to start shopping for school clothes, we wanted to send out information about our DRESS CODE so that you will all be prepared for when we return. This information can be found in the Student Handbook and Student Agenda that will be handed out at the beginning of school. Students are expected to dress and groom themselves in such a way as to reflect high standards of neatness, cleanliness and good taste. All students should be modestly dressed and in a manner that does not disrupt the operation of the school anywhere in the building or in the classroom. Administrators will make a determination of appropriate dress in the case of any uncertainty or dispute. (The athletic department will determine the appropriate dress for students involved directly in a physical education class.) - cont...

Good evening WCMS! Summer School Session 1 starts tomorrow morning through June 17th, Monday through Thursday from 7:50am - 12pm. Morning car rider drop off will be in the front and afternoon pickup will be on the side. **Second session is July 12-23.
Don't forget - The deadline to sign students in grades K-12 up for Digital Learning for 2021-2022 is Wednesday, June 9 at 11:59pm. The application is available at bit.ly/WCSDigLearnAppSY22. There is no digital learning option for Pre-K students. Contact us at
feedback@ware.k12.ga.us
with any questions.
Integrity Health will be offering Sports Physicals June 1 - 4, 2021 for $15. Please call the office, located at 808 Beacon St., at (912) 490-4325 to make an appointment. 
Applications are now being received to participate in Digital Learning for the 2021-2022 school year. Parents/guardians wishing to enroll their child in digital learning must complete the application, located at
http://bit.ly/WCSDigLearnAppSY22
, in order to enroll. Applications will be accepted through 11:59 pm on Wednesday, June 9, 2021. Please note: There is NO digital learning option for Pre-K students.
Ware County Schools will hold an ESSER 3 Stakeholder Input meeting on Thursday, May 27, 2021 at 5:30pm at the Transportation Department, located behind Wacona Elementary School. The public is invited to attend.