The deadline to shop in the Book Fair has been extended! Students can shop at the Book Fair in the Media Center until Tuesday, March 9th.

Tomorrow, March 4th is High Attendance Day! Let's win the challenge of all students coming to school on this day. Students will receive double house points throughout the day!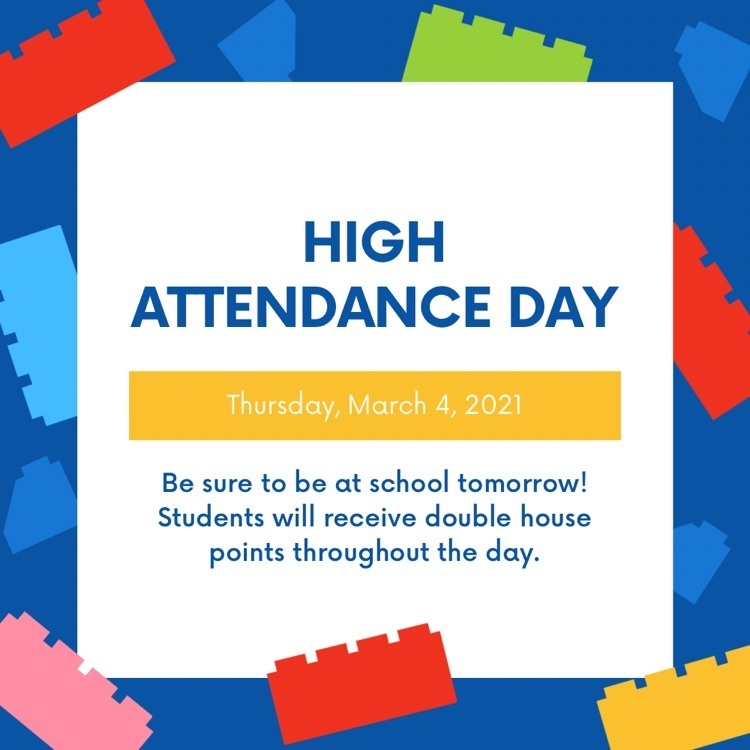 Don't forget Read Across Ruskin Week and the Book Fair begins tomorrow! See the attached image for more information on dress up days.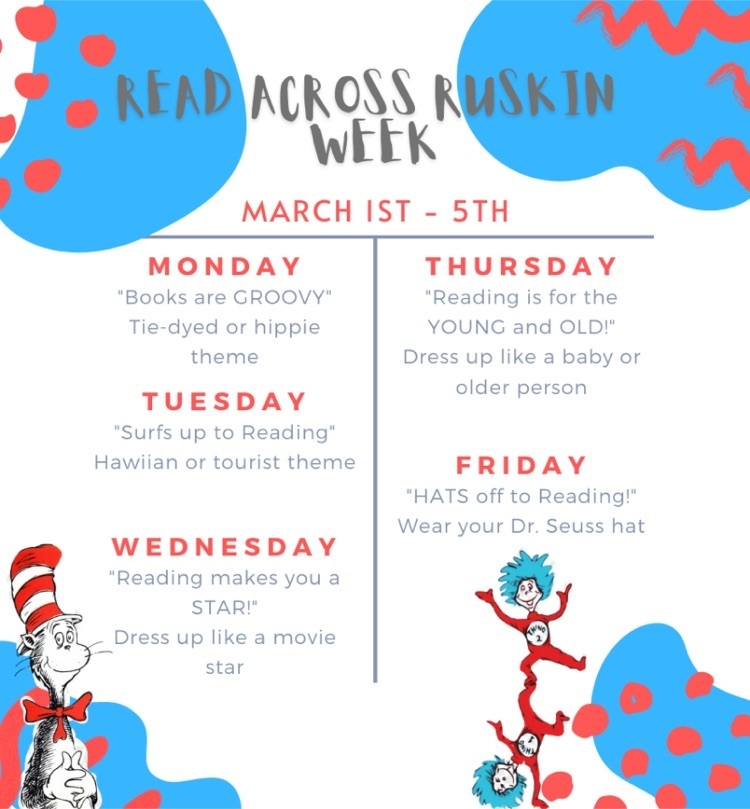 Purchase your Ruskin Yearbook today! The cost is $20.00. Get yours today! The price will increase to $25.00 in April. Click the following link to purchase your yearbook online:
https://osp.osmsinc.com/WareGA/
A flyer has been sent home with students.

Ruskin will celebrate "Read Across Ruskin Week" on March 1st-5th. Click the following link for more information:
https://5il.co/pzx4
A flyer has been sent home with students.

The Book Fair is here! Parents and students can begin shopping in the online store now! The following link will lead you to the online store:
https://www.scholastic.com/bf/ruskinelementaryschool
Students can shop in-person in the Media Center next week, March 1st through the 5th. A flyer has been sent home with students.

Celebrate the 100th day of school tomorrow, Wednesday, February 17th by dressing like you are 100 years old or wearing something with 100 items on it. A flyer was sent home with students last week.

Don't forget House Spirit Day tomorrow!! Wear your house colors to show your house pride!

No school for students tomorrow, October 2nd. School will resume on Monday, October 5th.

ATTN DIGITAL LEARNERS: Ruskin Elementary School will be hosting a Parent University on Monday, August 31st. This session will provide you with information on how to assist and support your child during digital learning. Two session times will be held, 9:00 AM or 5:00 PM. Please RSVP today using the following link:
https://forms.gle/oJxKWAH5Dg9nAAYD8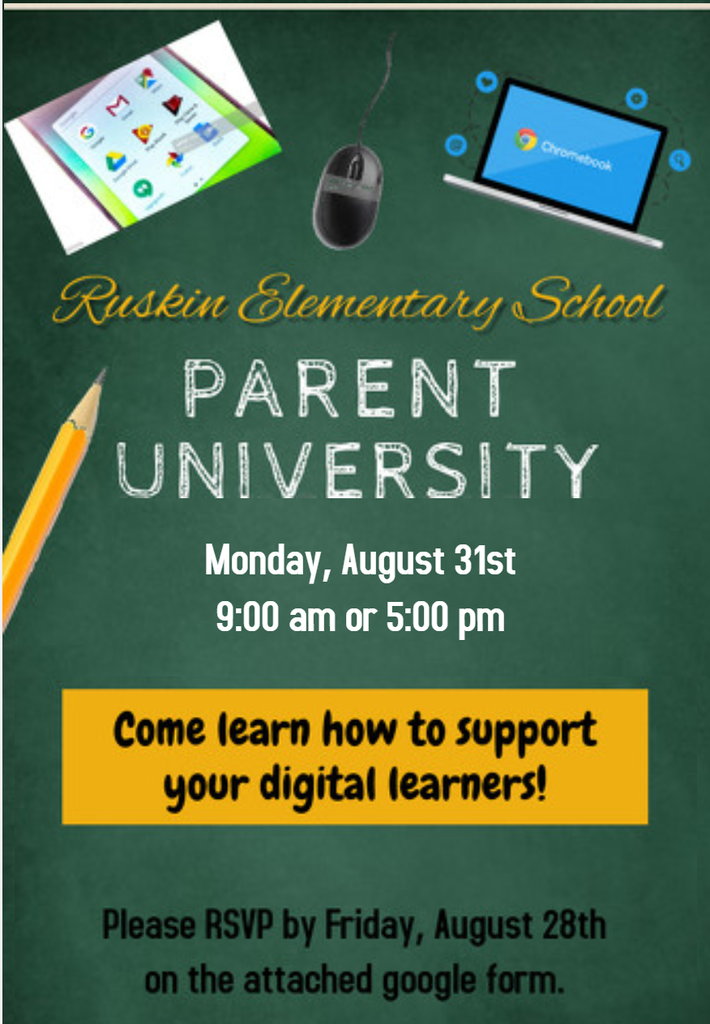 Parents/Guardians, Due to the uncertainties we face with Covid-19, it is very important to reach you. Teachers attempted to call all of our registered students who plan to attend as a Traditional Learner. However, teachers were unable to reach many of you, which means we may not have a current phone number. In order to ensure we have up-to-date contact information for each student, we ask that you send your student(s) to school on Monday with a note or tag stating the following items: 1. Student Name 2. Teacher Name/Grade 3. Afternoon Transportation Plans- include bus number if student is a bus rider 4. Working phone number Providing us with this information will ensure a smooth transition into the new school year and will allow us to connect with you. If you need assistance with finding out your bus number, please call the Ware Co Schools Transportation Dept at (912)287-2319. Please help spread the word to ensure we reach as many parents as possible. If you have any questions or concerns, please contact your child's teacher or the school directly on Monday. We look forward to seeing our student(s) on Monday!

School Opens at 7:40 Breakfast 8:00 - 8:30 Tardy at 8:10 Car Rider dismissal at 1:45 am Bus Rider dismissal at 2:00 pm Students are not allowed to bring in drinks/foods upon coming to school in the mornings. Students may bring lunch in a lunch box. Students may bring a clear water bottle.
The alert system we use, Thrillshare, is based in Little Rock, Arkansas, so our call-outs will have a Little Rock caller ID. The number is (501) 712-2633. Please save it to your phone so you will know when the school system is calling with important information.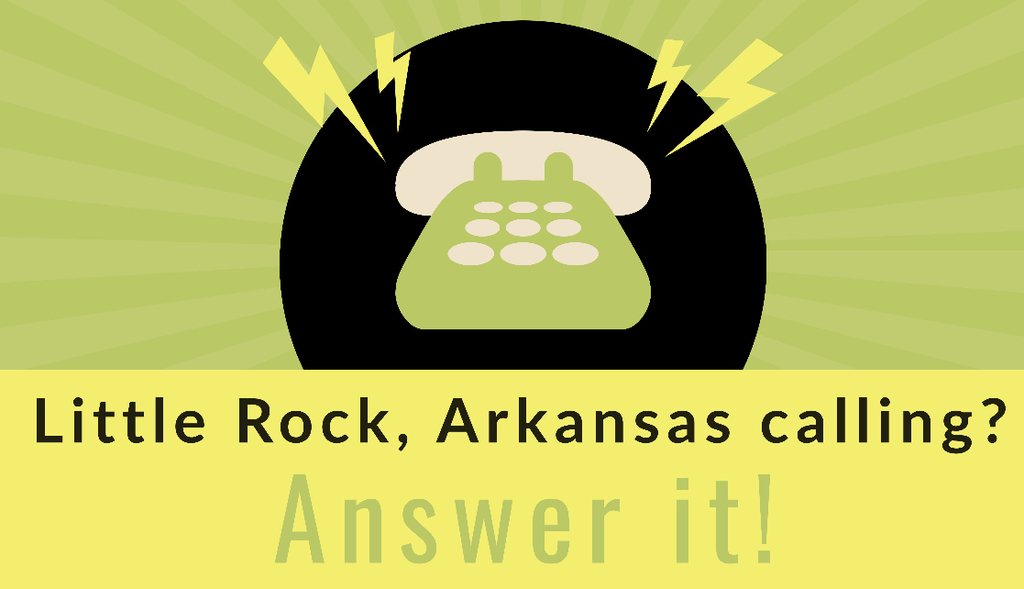 Ruskin Elementary School's Virtual Open House! In the next few days, you will be receiving a postcard from your child's new teacher. Once you know your child's teacher, please visit the following link to meet your teacher! An in-person Open House will NOT be held for students in grades 1-5. Kindergarten Open House will be held on August 12th. Please visit the school webpage for more information about Kindergarten Open House. Ruskin Virtual Open House Link:
https://tinyurl.com/y68byl8p

Parents/Guardians who have requested Digital Learning must complete a Digital Learning Application for each K-12 child in order to be accepted into the digital learning program. Pre-K students may sign up for Digital Learning by contacting DAFFODIL directly. The Digital Learning Application must be completed by the parent/guardian (not the student) and is due no later than August 5th at 6:00pm. Please find this form at
www.ware.k12.ga.us
.. All students for whom a form is not submitted prior to the deadline will be expected to participate in face-to-face learning. The first day of school for all students is August 17, 2020. Please contact
feedback@ware.k12.ga.us
if you need assistance.


Please see the news section for a link to the 2020-2021 supply list!