FCCLA Student Wins Big with Lowly Peanut
Paige Coker
Thursday, January 17, 2019
Following in the footsteps of George Washington Carver, Ware County High 9th grader Micah M. is working hard to find new uses for the peanut. Micah won first place in the Family, Career and Community Leaders of America (FCCLA) Peanut Recipe Competition sponsored by the Georgia Peanut Commission and held in cooperation with the Georgia National Fairgrounds and Agricenter. The competition, held in Perry, Georgia, was designed to allow middle school and 9th grade students the opportunity to showcase their creative skills in developing a new recipe.
Micah harvested peanuts from a local field farmed by Mr. Victor Aldridge. She cleaned them, boiled and shelled them, and, after much research and trial, made the most delicious hummus. Micah was awarded a blue ribbon and $100 for her success in the competition.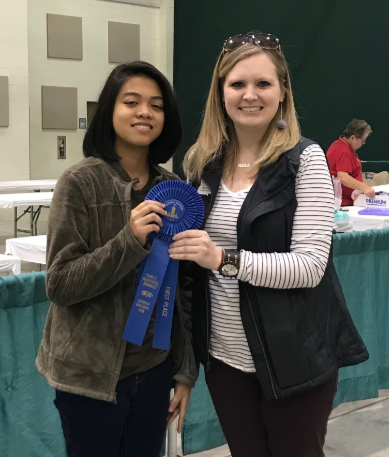 Micah receives her first place award from Ms. Traci Bryant, State FCCLA Director.

Micah utilized skills she learned in culinary arts through FCCLA to find a new use for the peanut--making delicious hummus!