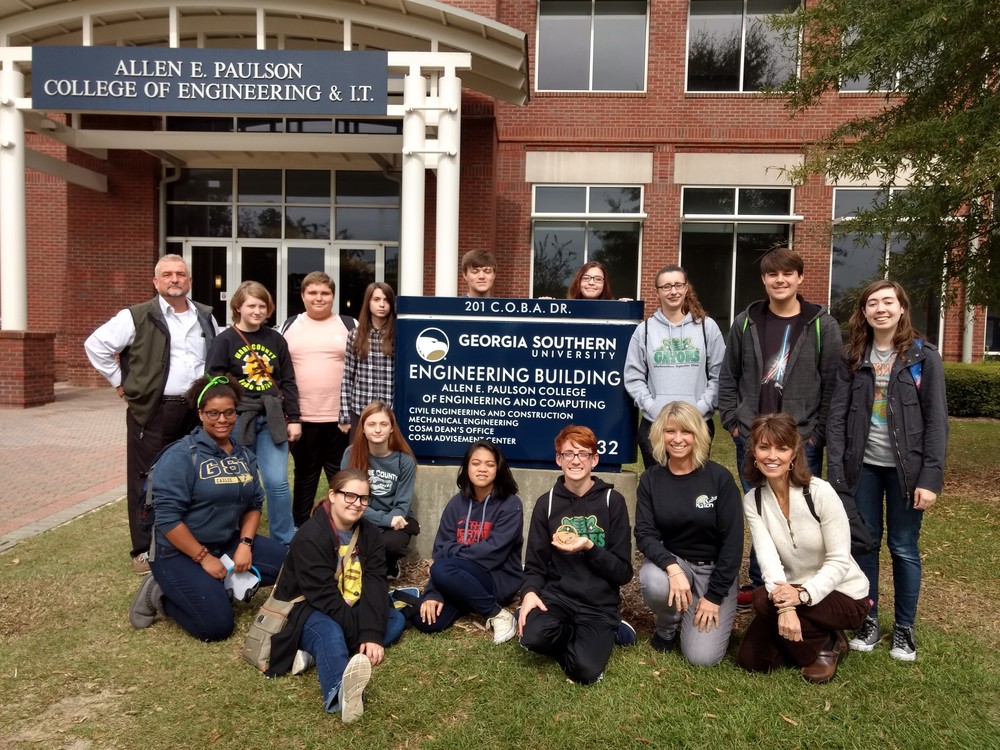 WCHS Animation and Film Club Visits GSU
Paige Coker
Tuesday, January 15, 2019
The Ware County High School Animation and Film Club recently visited Georgia Southern University for an engaging STEM field trip experience. The students visited the College of Engineering, where they enjoyed lab activities such as Science with Magic, Energy by Experiment, and 3D Modeling and Printing.
A highlight of the trip was a multi-station activity and information session hosted by Dr. Valentin Soloiu, Allen E. Paulson Distinguished Chair and Professor of the College of Engineering and Information Technology. During this activity, students had the opportunity to rotate through a variety of ongoing engineering research projects led by Dr. Soloiu's master students and researchers. Dr. Soloiu inspired and encouraged the group by sharing all the exciting opportunities available in the field and offered valuable advice on how to be successful in college and in their chosen career paths.
Students were able to get a feel for campus life as they ate in The Dining Commons with Dr. Soloiu and GSU engineering students. Students were also treated to a campus tour by GSU Student Ambassadors. Accompanying the students on the field trip were Millie Price, Ware County STEM Instructional Coach, and club advisors Candice Rice and Kellie Saxon. Principal Bert Smith stated, "I'm pleased our students had the opportunity to participate in these exciting STEM activities and visit the College of Engineering at Georgia Southern University."
Pictured L-R Back Row: Dr. Valentine Soloiu, Katie V., Tyler H., Jordan T., Dylan H., Ashleigh M., Mary D., Harold C., Ruby L.
Pictured L-R Front Row: Aliyah Knowles (Master Student and Main Researcher- Aerospace Laboratory), Cheyenne I., Celina P., Micah M., Micah S., Kellie Saxon, and Candice Rice