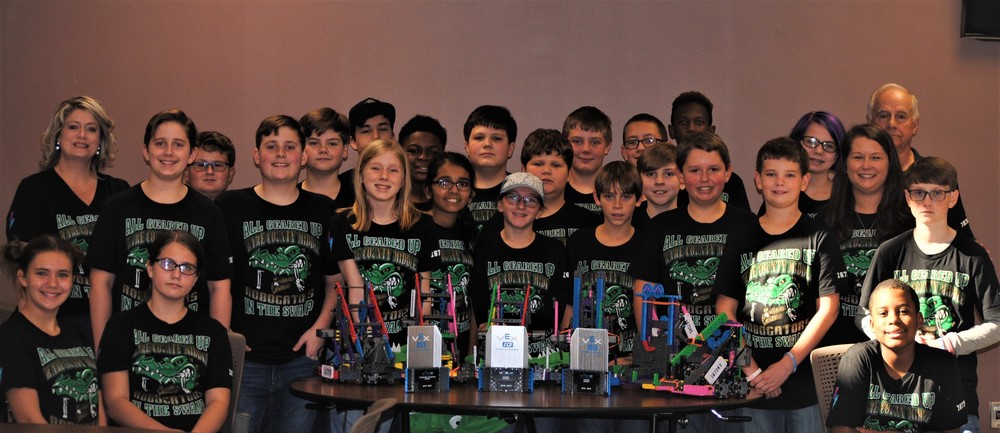 WCMS ROBOGATORS Team Kicks Off Competition Season with a Winning Streaks
Paige Coker
Monday, December 10, 2018
The Ware County Middle School Robotics Team competed in Covington, GA, in their first VEX IQ Next Level Robotics Competition of the school year. The ROBOGATORS brought home three trophies, and two of the six competing teams qualified for the state VEX IQ Middle School Championship. The competition was fierce, as thirty-seven robot teams competed in autonomous robot skills, driver skills, and alliance matches. The top 12 teams, three from Ware Middle, advanced to the final alliance matches.
Robot Team 16734C (Maddox G., Connor C., and Shyanne L.) won the Teamwork Champion Award trophy and Design Award trophy, which is given to the team that implemented the most effective and efficient robot design process. The team is noted for effective management of skills, time, and material resources, teamwork, and effective communication skills. Their engineering notebook is a clear, complete, and organized documentation of the robot design process, and team members understand and can explain how they developed an effective game strategy and robot design.
Team 16734Z, the Girl Powered ROBOGATORS team, received the Judges Award trophy because of their exemplary effort and perseverance at the event. Team Z, made up of Ayesha P., David H., Olivia S., Dallas B., & Lindsy M., displayed incredible team spirit. Their engineering notebook was recognized for its obvious collaborative efforts.
Team 16734Y, was the second place team in the finals match. Because of their points earned for autonomous robot skills and their driver skills, they qualified to compete in VEX IQ Middle School State Championship. Team Y is made up of Grayson M., Cody G., Mason T., and Cason Z.
Ware County is hosting a VEX IQ Next Level competition February 2nd at Waycross Middle School. The event is open to the public. We hope you will come out and see these amazing students and their robots in action! If you would like more information about VEX IQ Robotics, the competition set up, or starting your own team, you may find useful information at vexrobotics.com. You can also contact Mrs. Millie Price, Ware County Schools STEM coordinator, by email at millieprice@ware.k12.ga.us or WCMS Robotics Coach, Melissa Lee, at mlee@ware.k12.ga.us.
Pictured: Coach Sheila Sholtis, Madison T., Shyanne L., Maddox G., Grayson M., Connor C., Brody J., Shawn M., Olivia S., Jayden B., Ayesha P., Kent T., Lindsy M., David H., Evan P., Grant G., Elliott Y., Cason Z., Cody G., Jaheim H., Mason T., Cadance L., Dallas B., Noah B., Assistant Coach Melissa Lee, and Community Coach George Gruver.