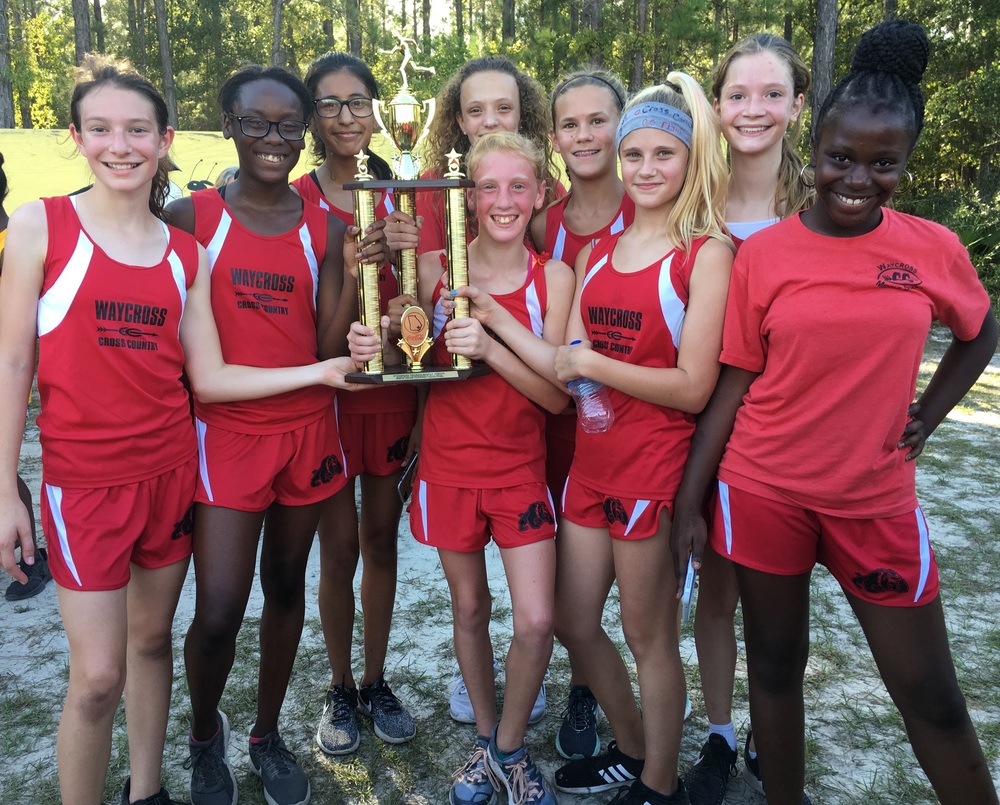 Waycross Middle School Lady Bulldogs are Cross Country Conference Champions
Paige Coker
Thursday, November 08, 2018
The Waycross Middle School Lady Bulldogs have had an amazing Cross Country season. They were undefeated in the regular season this year, and the Lady Bulldogs took the Conference Championship in Jesup.. This has not happened in recent school history, marking this a record-making season.
The middle school cross country race increased in distance this year from one and a half miles to two miles. This may not seem like a big increase, but according to Coach Dana Smith, the extra half mile addition played a big role in the endurance of the runners. The team prepared for the new race distance by committing to practice hard every day and increasing their practice distance. "The girls decided at the beginning of the season that they wanted to win meets this year and even began dreaming of taking the first five scoring places. They set their sights high and went after their goals with excitement," said Smith.
The Lady Bulldogs began the season winning the Pierce County Middle meet. The Lady Bulldogs were led by a terrific trio consisting of sixth grader Molly S., seventh grader Keeli H., and eighth grader Evie B. This trio would be joined by eighth grader Selina O. to be the first finishers for the Lady Bulldogs throughout the season. Three of these leaders have competed for Coach Smith in previous seasons, and she has enjoyed watching them really come alive this season. They all pushed each other to improve not only in practice but also in each meet. Newcomer to the team, Molly S. set the bar high for the Lady Bulldogs by not only winning the first meet of the season but also taking the prized first place in each meet this season, including the Conference Championship meet.
Throughout most of the season, the top five runners making up the scoring team for Waycross Middle school girls finished within the top thirteen runners, making this team a tough competition. Seventh grader Jenna I. and sixth grader Logan M. gave their best efforts on the course to often finish up the scoring team for the Lady Bulldogs. The rest of the Lady Bulldogs cross country team include eighth graders Kendra M., Rashe` O., and Ilissa R. All of these ladies worked hard all season pushing each other to continually improve and strive for their goals.
"It has been a delight to coach this great group of girls this year. They are such hard workers. I cannot wait to see what we will accomplish next year," said Smith of her amazing team.
Front Row L-R: Molly S., Jenna I., and Rashe O.
Back Row L-R: Logan M., Kendra Mo., Selina O., Ilissa R., Keeli H., and Evie B.