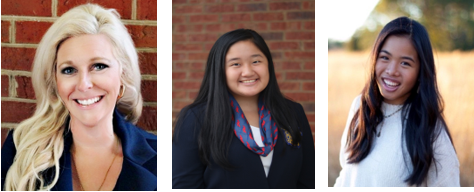 WCHS FBLA Members and Advisor are Region Leaders
Ware County Schools
Thursday, August 27, 2020
Two Ware County High School FBLA officers, as well as their adviser have earned an esteemed honor within Georgia Future Business Leaders of America organization. Alexandra C., a junior and the president of the local chapter, was named a Region 2 Officer for the 2020-2021 school year and Faith L., a senior and local chapter officer, was also named a Region 2 Officer for the 2020-2021 school year. The local chapter adviser, Mrs. Lauren Carter, will continue as Region 2 adviser and Ware County High School will host the Region 2 Leadership Conference again in January at WCHS.
Georgia's FBLA program has more than 19,000 members but less than 60 officer positions statewide. Faith, Alexandra, two other students from surrounding counties and Mrs. Lauren Carter will be over Region 2 which is one of fifteen regions in the state and consists of 23 counties.
All selected region officers must complete a multi-step process. These steps include application, resume, essays, and letters of recommendation and completion of at least the first level of Business Achievement Awards. The FBLA Business Achievement Awards (BAA) is an intensive leadership development program that recognizes FBLA members for achievements in a variety of career-related projects, goals, and programs. High school students create a portfolio of real-world accomplishments and develop their business and leadership skills across four levels: Future, Business, Leader, and America. Alexandra has gone above the normal pace of achieving these awards. Alexandra completed the last level this past year as a sophomore and will received recognition and her pin at the 2021 National Leadership Conference this summer in Anaheim, California.
Part of the student's duties and responsibilities as region officers included attending Region Officer Academy (ROA) this summer which was held virtually during the pandemic. During the conference officers had the opportunity to network with other region officers virtual from around the state as well as with state officers, the state adviser and GA FBLA alumni.
As region officers they will also assist the region adviser with the region's leadership conference, which is scheduled for January 28th, 2020 at Ware County High School and be required to attend all meetings and conferences on the region and state levels.
In reflecting on this opportunity, Alexandra said, "With continuously-changing circumstances and so many uncertainties, this year, without a doubt, will be nothing like any of us have ever experienced before. That said, FBLA's unrelenting tenacity in continuing to safely provide opportunities for members will never fail to amaze me. I am very blessed to be given the opportunity to serve this organization as a Region 2 Officer—and I'm beyond excited to see how this year unfolds and, as a region, what heights we'll not only aspire to, but achieve."
Their adviser, Mrs. Carter, summed up their success by saying, "I am so proud and happy for Alexandra and Faith. Alexandra has fully emerged into all that FBLA has to offer over the past two years and has made me proud to have her on the leadership team. Faith, who joined FBLA last year has in a short period of time acquired a strong passion for the organization and I cannot wait to see what she does in her time of leadership. Both girls have gained real world value through broadening their network, to discovering and developing skills and passions that they did not know exist, to most importantly serving their school and community. I am excited to watch these two young ladies flourish as region officers and see what the future holds not only for our local chapter but for the entire region. "
Carter went on to say, "We are looking for industry business volunteers to judge the presentation events at our Region Conference again in January. This conference will more than likely be virtual this year, and more details to come. The competitive presentation events include: Business Ethics, Client Service, Emerging Business Issues, Impromptu Speaking, Introduction to Business Presentation, and Introduction to Public Speaking, Job Interview, Public Speaking, Sales Presentation, and Social Media Campaign." If you have any professional experience in any of these content areas and would like to volunteer please email Mrs. Lauren Carter at laurencarter@ware.k12.ga.us.