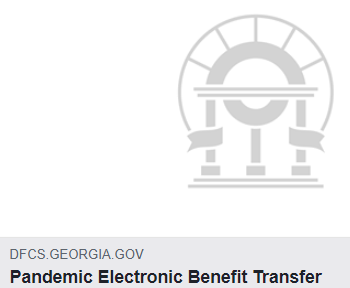 Pandemic-EBT Information
Ware County Schools
Wednesday, July 29, 2020
Families of students who were enrolled in schools participating in the National School Lunch Program during March, April, and May of 2020 AND who received free meals (which applies to ALL Ware County Schools students, regardless of income, due to the Community Eligibility Provision) are eligible to apply for Pandemic - EBT benefits amounting to $256.50 per eligible child.
Please visit https://dfcs.georgia.gov/pande... to learn more about this program, who is eligible, and how to apply before the September 25th deadline.
You will need your child's GTID number. It can be found in Parent Portal. If you do not have a Parent Portal account, please visit https://campus.ware.k12.ga.us/... to set your account up. You will need your child's SSN and birthdate to set up an account. The Activation Key starts after "GUID:" and is the string of letters and numbers beside your name. You will need to copy it, click on Manually Enter Activation Key, and then paste the key in the box on the next page.
If your child was enrolled in the Ware County School System last year but has since graduated, please contact the high school to obtain the GTID. If your child has never been enrolled in the school district, we do not have a GTID to provide you.
If you have trouble, please contact your child's school data clerk. Thank you!