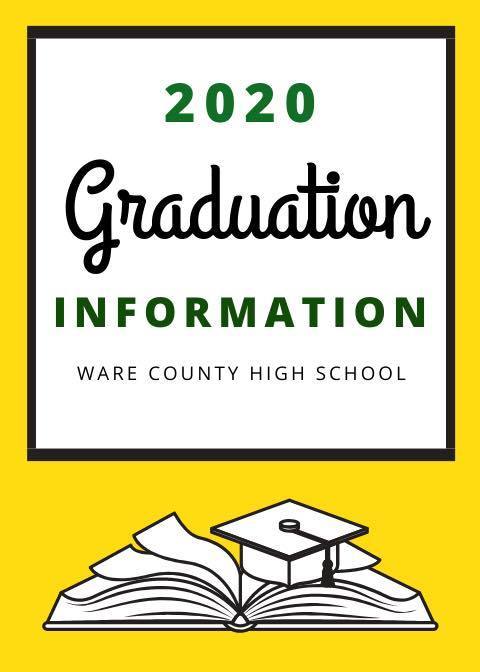 Attention Seniors: Graduation Information
Ware County Schools
Wednesday, July 08, 2020
Ware County High School 2020 Graduation Information
Ware County High School will be conducting graduation on July 18th at 9:00AM. We are taking precautions with students and guests based on the current COVID guidelines and have adjusted our ceremony to meet the current guidelines. Please read the following information concerning graduates and their guests.
Practice: Friday July 17th at 9:00AM
- You must attend practice to participate in graduation on Saturday.
- Arrive no later than 8:45AM and report directly to your seat on the field. The seats will be marked with your name on it.
- Due to the temperature, you may wear shorts but make sure you are in dress code.
Tickets: Each Senior will receive 6 tickets for admission to graduation. The tickets will be assigned, and families will sit together to follow social distancing guidelines. There will be a minimum of a 6 foot distance between families.
- Please refer to the Governor's Executive Order regarding those who are 65 or older or anyone with pre-existing health conditions.
- The ceremony will be live streamed on the school's Facebook Page.
- Tickets will be given to Seniors after practice on Friday.
- We will not replace lost or stolen tickets; tickets will not be available on the day of graduation.
- Every person who enters the stadium must have a ticket, regardless of age.
- Tickets will be color-coded for Home, Visitor, and Field seating.
- Family units of up to 6 must sit together in their assigned section.
- No umbrellas.
- Family and friends will not be dismissed until all graduates have exited the stadium. Family units will be dismissed by sections to maintain social distancing while exiting the stadium.
- Students requiring a handicapped ticket for a member must contact Lee Robertson at lrobertson@ware.k12.ga.us by July 10th.
Ceremony: Saturday July 18th at 9:00AM
- Family and friends need to be at the stadium before 8:30AM.
- Gates will open at 7:30AM. - No guest will be allowed to enter the stadium after 9:00AM.
- Once guests enter the stadium, they need to go directly to their seats. Guests need to stay in their assigned area during the ceremony as well.
- Per CDC guidelines, masks are recommended but not required. Masks made of material presenting crude or inflammatory content will not be allowed.
Graduates: On Saturday, graduates will park in the Williams Heights Elementary grassy lot behind the school (the band lot) or visitors parking lot side of stadium. You will be given a student parking pass and only enter the stadium from the Williams Heights end of the field.
- Report directly to your assigned seat by no later than 8:30AM.
- Students must be in their seat by 8:45AM or they will not be allowed to participate.
Dismissal: Students will be dismissed at the end of the ceremony during the class song. The audience will remain seated until all the graduates have been dismissed. The audience will then be dismissed by sections to remain in compliance with social distancing.
Diplomas: Diplomas will be picked up immediately after graduation at Waycross Middle. Students will not get out of their vehicles; it will be a drive-thru pick-up.
Dress:
Females - Black dress and low-heeled black shoes are recommended but not required. NO JEANS.
Males - Black pants, black shoes, white shirt, tie/bow tie recommended. NO JEANS.
- Hang gown and please have the following items.
- Cords (will be given out Friday at practice)
- Cap and Gown (Do not DECORATE cap!)
- Stole (NHS and Beta members)
If you have any questions, please contact pcallahan@ware.k12.ga.us or lrobertson@ware.k12.ga.us.