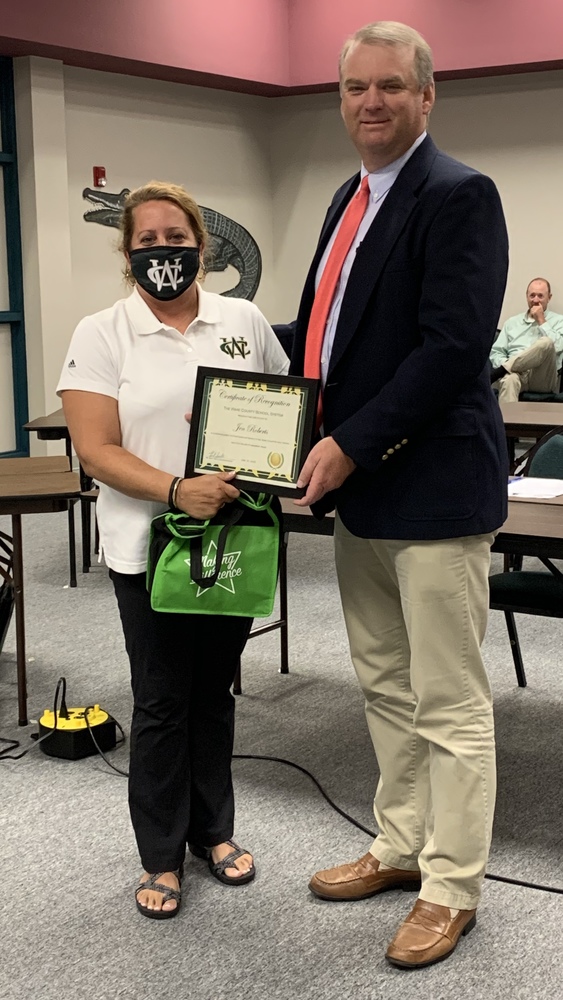 Jen Roberts is a June Golden Achievement Award Winner
Ware County Schools
Tuesday, June 16, 2020
Congratulations to Jen Roberts, our athletic trainer and a Golden Achievement Award winner for the month of June.
Supt. Smith presented the award, saying "The Ware County School System is fortunate to have many resources to help our students succeed inside and outside of the classroom, including our athletic trainer who takes care of student-athletes year round at Ware County High School. Recently, the Georgia High School Association released regulations allowing student-athletes to return to schools for conditioning-only drills. Ms. Jen Roberts immediately began educating our coaches on how to reopen our athletic facilities in the safest way possible. She reviewed the protocols, developed the necessary paperwork, and provided coaches with detailed information to help them interpret the guidelines and ensure that all necessary precautions were in place. The work put in to prepare this reopening was both precise and on point. The Ware County Board of Education would like to recognize Ms. Roberts for her work and commitment to our student-athletes, especially during this time of uncertainty. Thank you Ms. Roberts."
We are so fortunate to have you on our team! Congratulations!