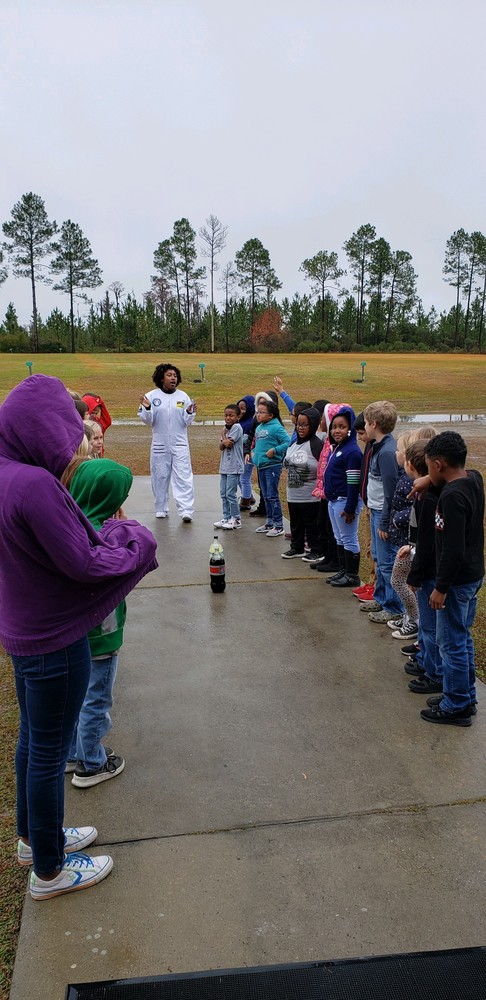 Author With Waycross Ties Visits Ruskin Elementary
Ware County Schools
Friday, January 31, 2020
Sophia Evette Sharpe, a native of Ware County, visited Ruskin Elementary School, where she read her first published book, I Am an Astronaut, to the 2nd graders. Afterwards, the students participated in a STEM activity where they observed the chemical reaction between carbon dioxide and candy. Like true scientists, students were able to discuss the reason behind the reaction and how they can expand the experiment.
Ms. Sharpe shared that the I Am series is the first of many children's series that she has forthcoming. The collection is interactive with a spelling component at the end of each story, fun learning facts, and much more. I Am an Astronaut by Sophia E. Sharpe is available on Amazon. To have her at your next event, email her directly at sharpepublishingllc@gmail.com. Donna Solomon is the principal at Ruskin Elementary.
Pictured: Ms. Sophia E. Sharpe demonstrating science experiment to Ruskin Elementary's 2nd grade students.