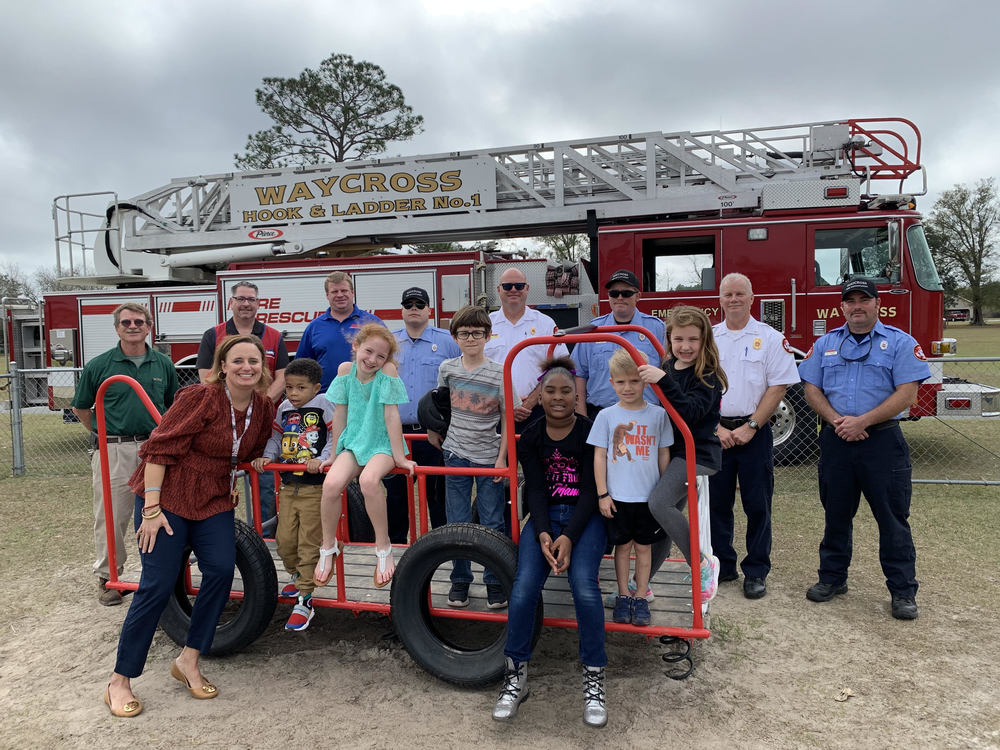 Beloved Playground Fire Truck Gets a Facelift
Ware County Schools
Friday, January 17, 2020
For many years, Memorial Drive Elementary School students have played on, in, and around a metal frame fire truck on the playground. No one seems to remember just how long the firetruck has been in place, but its wear and tear was a tell-tale sign that it was a favorite of students young and old. Ware County Schools maintenance worker Robert Yaun noted the hazards present in the worn boards and rusty facade. Rather than discard the equipment, he set to work bringing a team of community partners together to give the old fire truck structure new life.
Under the direction of Waycross Fire Department Battalion Chief Randall Miles, a crew of firefighters set to work restoring the playground equipment with the help of contributions from Miller Tire (tires), Lowes (lumber), and Sherwin Williams (paint). The project took approximately eight hours of volunteer labor. The payment was all in seeing the absolute joy on students' faces as they raced out the school doors and clambered onto the shiny new structure. With a fresh facelift, the old fire truck is ready to take scores of students on many more miles of playground adventures. Thank you to the community partners who volunteered their time and talents to make this project a success!
Pictured: (back row, left to right): Robert Yaun (Ware County Schools), Paul Williams (Lowes), Brett Miller (Miller Tire Company), Firefighter Brandon Williams, Lt. Jason Moye, Driver Engineer Josh Waldron, Battalion Chief Randall Miles,Driver Engineer Chad Mathis, (front row, left to right) Principal Loni Hines, Jaycion R., Mackenzie M., Vinnie B., Cahjiyah N., Max W., and Aris B.