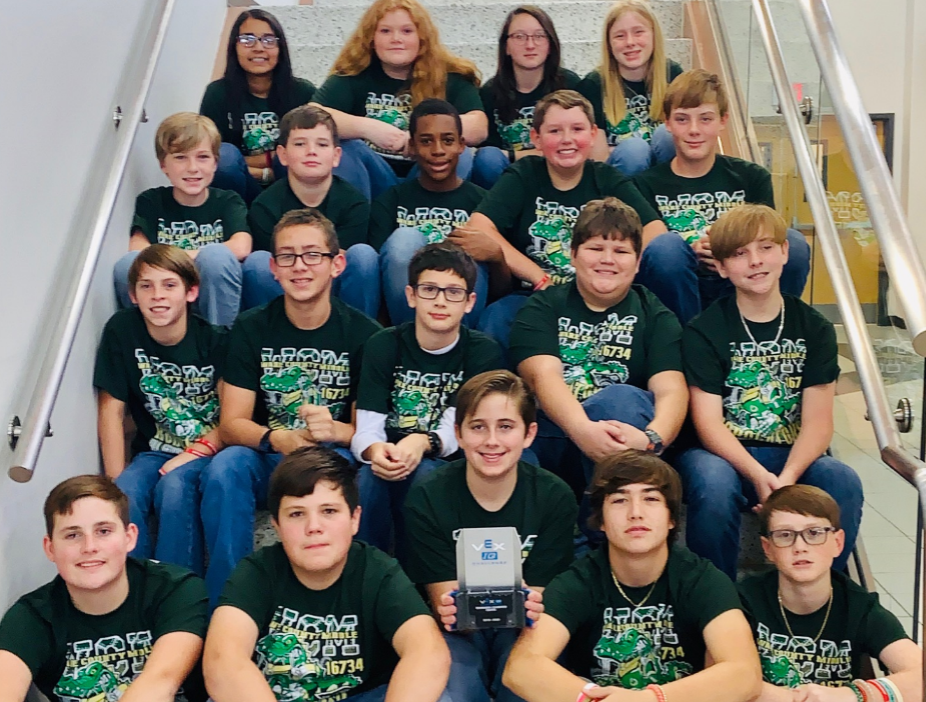 WCMS Robogators Dominate the Competition
Ware County Schools
Thursday, January 09, 2020
The Ware County Middle School Robogators robotics team has gotten off to an amazing start this season, winning top awards at all three competitions they have attended. On November 2nd, the team attended the NCSS VEX IQ Middle School November Qualifier in Covington. Team C won first place in the Teamwork Champion Award, and Team A placed second in that category.
At the November 16th Bennett's Mill Middle School Robotics VEX IQ Tournament in Fayetteville, the Robogators won top honors in five of the six awards presented that day. Team A and Team C's finals alliance won them each a first place Teamwork Champion Award, and Team Z placed second. Team C won the Design Award and Team A won both Robot Skills Champion Award and the Excellence Award.
Most recently, the Robogators travelled to McDonough to compete in the Ola Middle School December Qualifier, where team A won the Teamwork Champion Award, and Team C won the Excellence Award. If you have lost count, that's eight 1st place awards the Robogators can add to their resume for the 2019-2020 season thus far!
Teams A and C have qualified for the state championship in Covington on February 22nd, where they hope to win top honors and qualify for the VEX IQ World Championship to be held in Louisville, KY. Those two teams also qualified for and will be attending the VEX IQ CREATE U.S. Open Robotics Championship in Council Bluffs, Iowa March 30 – April 1, 2020, where they will compete with teams from all over the country. The Robogators will travel to Cumming, Georgia on January 11th and February 1st, where teams Y and Z hope to qualify for the state championship.
Congratulations to the Robogators team on their excellent showing, and thank you to all the team sponsors who support their success.
Pictured:
Bottom row: Team C - Connor C., Kent T., Maddox G., Shawn M., Noah B.
2nd row : Team Y - Grant G., Cason Z., Josh S., David H., Ely Y.
3rd row: Team A - Owen S., Mason Ty., Dallas B., Cody G., Evan P.
Top row: Team Z - Ayesha P., Ashlyn J., Lindsy M., Olivia S.